Mobile Communication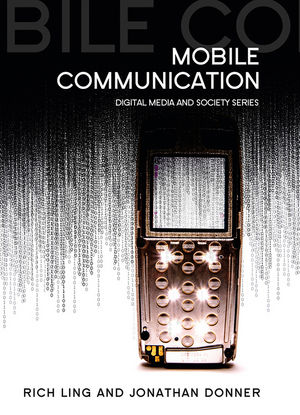 Mobile Communication
ISBN: 978-0-745-64414-1 June 2009 Polity 200 Pages
Description
With staggering swiftness, the mobile phone has become a fixture of daily life in almost every society on earth. In 2007, the world had over 3 billion mobile subscriptions. Prosperous nations boast of having more subscriptions than people. In the developing world, hundreds of millions of people who could never afford a landline telephone now have a mobile number of their own. With a mobile in our hand many of us feel safer, more productive, and more connected to loved ones, but perhaps also more distracted and less involved with things happening immediately around us.
Written by two leading researchers in the field, this volume presents an overview of the mobile telephone as a social and cultural phenomenon. Research is summarized and made accessible though detailed descriptions of ten mobile users from around the world. These illustrate popular debates, as well as deeper social forces at work. The book concludes by considering three themes: 1) the tighter interlacing of daily activities 2) a revolution of control in the social sphere, and 3) the arrival of a world where the majority of its inhabitants are reachable, anytime, anywhere.
Table of contents
Preface.
Acknowledgements.
Chapter 1. Introduction: the quarter century beyond the Maitland commission report.
Chapter 2. Short history of mobile communication.
Chapter 3. Mobile communication in everyday life: 3 Billion New Phones.
Chapter 4. Mobile communication in everyday life: New Choices, New Challenges.
Chapter 5. Debates surrounding mobile communication.
Chapter 6. Conclusion: Individual addressability, interlacing and the spillover of the control revolution
Reviews
"When I look for informed understanding of the emerging effects of mobile phone use, I count on Rich Ling not only for sound theory and empirical foundations, but for insight and engaging writing."
Howard Rheingold, Stanford University

"Smart, rich, panoramic."
Lee Rainie, Director, Pew Internet and American Life Project
"At one time, we traveled to communicate or sat at home or work, waiting for the phone to ring. Now, the calls come wherever we are, whether we like it or not. This is the first comprehensive account of the mobile society, going well behind the ringtones to discuss how we're using mobile phones and how they are using us."
Barry Wellman, University of Toronto
"Storied mobile communication researchers Jonathan Donner and Richard Ling have given us a savvy, panoramic view of how mobile communication has changed and is changing lives around the world. They reveal how portable communication technology is affecting every level of human endeavor, from socioeconomic transformations in the developing world to mischief in the classroom. Their adroit treatment is required reading for anyone interested in the subject."
James E. Katz, Rutgers University
What's New


A critical overview of one of the most pervasive digital technologies in the contemporary world.

Written by two leading researchers in the field, with international renown and both industrial and academic experience.

Will be adopted as the key initial reading on this topic across a range of classes, from digital media technologies through computing and society.

Is also the first book to consider fully mobile technologies and their key role in the developing world.

Will be fully supported by the digital media and society series webpage and blog.