Mobile Intelligence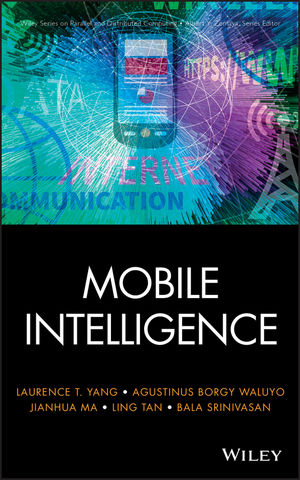 Mobile Intelligence
ISBN: 978-0-470-19555-0
Feb 2010
900 pages
Description
* Focuses on learning patterns and knowledge from data generated by mobile users and mobile technology.
* Covers research and application issues in applying computational intelligence applications to mobile computing
* Delivers benefits to a wide range of applications
* Introduces the state of the art of computational intelligence to the mobile paradigm
Preface.
Contributors.
Part I Mobile Data and Intelligence.
1. A Survey of State-of-the-Art Routing Protocols for Mobile Ad Hoc Networks.
2. Connected Dominating Set for Topology Control in Ad Hoc Networks.
3. An Intelligent Way to Reduce Channel Under-utilization in Mobile Ad Hoc Networks,
4. Mobility in Publish/Subscribe Systems,
5. Cross-Layer Design Framework for Adaptive Cooperative Caching in Mobile Ad Hoc Networks.
6. Recent Advances in Mobile Agent-Oriented Applications.
Part II Location-Based Mobile Information Services.
7. KCLS: A Cluster-Based Location Service Protocol and Its Applications in Multihop Mobile Networks.
8. Predictive Location Tracking in Cellular and in Ad Hoc Wireless Networks.
9. An Efficient Air Index Scheme for Spatial Data Dissemination in Mobile Computing Environments.
10. Next Generation Location-based Services: Merging Positioning and Web 2.0.
Part III Mobile Mining.
11. Data Mining for Moving Object Databases.
12. Mobile Data Mining on Small Devices Through Web Services.
Part IV Mobile Context-Aware and Applications.
13. Context Awareness: A Formal Foundation.
14. Experiences with a Smart Office Project 294
15. An Agent-Based Architecture for Providing Enhanced Communication Services.Part V Mobile Intelligence Security.
16. MANET Routing Security.
17. An Online Scheme for Threat Detection Within Mobile Ad Hoc Networks.
18. SMRTI: Secure Mobile Ad Hoc Network Routing with Trust Intrigue.
19. Managing Privacy in Location-based Access Control Systems.
Part VI Mobile Multimedia.
20. VoiceXML-Enabled Intelligent Mobile Services.
21. User Adaptive Video Retrieval on Mobile Devices.
22. A Ubiquitous Fashionable Computer with an i-Throw Device on a Location-based Service Environment.
23. Energy Efficiency for Mobile Multimedia Replay.
Part VII Intelligent Network.
24. Efficient Data-Centric Storage Mechanisms in Wireless Sensor Networks.
25. Tracking in Wireless Sensor Networks.
26. DDoS Attack Modeling and Detection in Wireless Sensor Networks.
27. Energy-Efficient Pattern Recognition for Wireless Sensor Networks.
Index.