Mobile Web Design For Dummies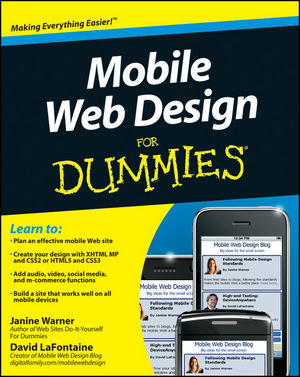 Mobile Web Design For Dummies
ISBN: 978-0-470-93190-5
Aug 2010
384 pages
Product not available for purchase
Description
The perfect place to learn how to design Web sites for mobile devices!
With the popularity of Internet access via cell phones and other mobile devices, Web designers now have to consider as many as eight operating systems, several browsers, and a slew of new devices as they plan a new site, a new interface, or a new sub-site. This easy-to-follow friendly book guides you through this brave new world with a clear look at the fundamentals and offers practical techniques and tricks you may not have considered.
Explores all issues to consider in planning a mobile site
Covers the tools needed for mobile design, in particular XHTML and CSS
Shows you how to plan for multimedia, e-commerce, and marketing your site, including adding audio, video, and social networking
Provides real-world examples and tips to help you avoid common pitfalls
If you're contemplating Web design in a mobile world, start first with this practical guide.
Introduction.
Part I: Designing for Mobile Devices.
Chapter 1: Understanding What Makes the Mobile Web Different.
Chapter 2: Designing for the Mobile Web.
Part II: Following Mobile Web Standards.
Chapter 3: Creating a Simple Mobile Site.
Chapter 4: Understanding XHTML and CSS.
Chapter 5: Comparing Mobile Markup Languages.
Chapter 6: Delivering Different Designs to Different Devices.
Chapter 7: Testing and Publishing Mobile Web Sites.
Part III: Multimedia, Marketing, and E-Commerce.
Chapter 8: Using Images and Multimedia in Mobile Designs.
Chapter 9: Making Your Blog Mobile-Friendly.
Chapter 10: Mobile Marketing and Social Media.
Chapter 11: Adding Mobile Commerce.
Part IV: The Part of Tens.
Chapter 12: Ten Quick Tips for Mobile Design.
Chapter 13: Ten Great Mobile Sites.
Appendix A: Interviews with Mobile Experts.
Appendix B: Optimizing Graphics for the Mobile Web.
Index.