Model Letters and Memos: A Handbook for Scientists and Engineers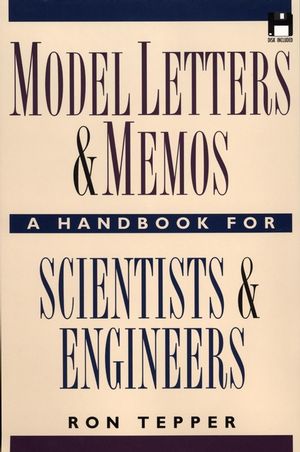 Model Letters and Memos: A Handbook for Scientists and Engineers
ISBN: 978-0-471-13917-1 April 1996 256 Pages
Description
Most scientists, engineers, and other professionals in technicalfields are quite comfortable using their analytical skills andcarrying out the most detail-oriented research. Yet when it comesto communicating highly technical information to others in a mannerthat is both clear and concise, even the best minds are often at aloss.

Model Letters and Memos: A Handbook for Scientists and Engineersshows technically oriented individuals how to communicate theirideas clearly to a wide range of audiences. The author uses twodistinct formulas to help compose all kinds of effective, lucidlywritten correspondence.

The first formula is a four-step process called "AIDA," whichstands for Attention, Interest, Desire, and Action. This formulaenables busy professionals to organize their thoughts andcommunicate them clearly, directly, and accurately.

The second formula covered in the book, "IBC," or Introduction,Body, and Conclusion, shows how to break down every memo into itsthree most important parts. Step-by-step and with specificexamples, the author illustrates how to set up an introduction,communicate the desired information, and develop aconclusion.

In addition to these formulas, you'll learn how to: avoid thecommon pitfalls of writing letters and memos; make correspondencemore effective; make lengthy documents more readable; and virtuallyguarantee that a recipient will read and understand the basicmessage.

You'll also find two chapters of boilerplate letters and memos onmore than 125 different subjects, all written by technicalprofessionals who are also accomplished writers and communicators.Because they can easily be used as templates for crafting similarcommunications, these sample letters are included on the computerdisk accompanying the text.

For any technical professional who needs to communicate in writingclearly, quickly, and accurately, Model Letters and Memos: AHandbook for Scientists and Engineers is an indispensable,time-saving resource.

An invaluable resource for technical professionals who want tocommunicate their ideas quickly and effectively

Model Letters and Memos: A Handbook for Scientists and Engineerstakes the struggle out of the writing process by demonstrating howto put any kind of information, no matter how technical, into aform that can be easily read and understood.

This practical, time-saving guide shows you how to:
* Structure an effective letter/memo
* Create and maintain interest in your correspondence
* Elicit the desired response from your reader
* Make a lengthy document more readable
* Avoid the ten most common mistakes letter/memo writers make

This indispensable resource also offers nearly 200 examples ofeffective technical letters and memos and an accompanying computerdisk that includes all the letters and memos in the text for easyand immediate application.
Table of contents
What Makes a Letter or Memo Effective?--12 Rules to Remember.

Why Some Letters and Memos Fail.

The Eleven Most Common Mistakes--How to Avoid Them.

The Seventeen Most Common Memo Mistakes--and AdditionalAdvice.

Boilerplate for Successful Memos.

Boilerplate for Successful Letters.

Wrap-Up--Thirty-One Simple Tips and Rules.

Index.