Modeling Random Processes for Engineers and Managers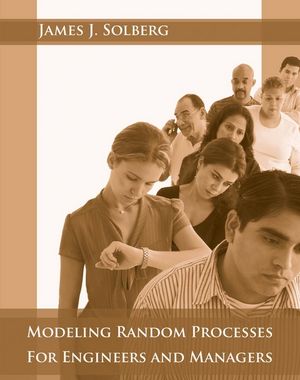 Modeling Random Processes for Engineers and Managers
ISBN: 978-0-470-47309-2
Apr 2014
320 pages
Description
Modeling Random Processes for Engineers and Managers provides students with a "gentle" introduction to stochastic processes, emphasizing full explanations and many examples rather than formal mathematical theorems and proofs.  The text offers an accessible entry into a very useful and versatile set of tools for dealing with uncertainty and variation.  Many practical examples of models, as well as complete explanations of the thought process required to create them, motivate the presentation of the computational methods.  In addition, the text contains a previously unpublished computational approach to solving many of the equations that occur in Markov processes.  Modeling Random Processes is intended to serve as an introduction, but more advanced students can use the case studies and problems to expand their understanding of practical uses of the theory.

 
Preface.
1. Probability Review.
2. Formulating Markov Chain Models.
3. Markov Chain Calculations.
4. Rewards on Markov Chains.
5. Continuous Time Markov Processes.
6. Queueing Models.
7. Networks of Queues.
8. Using the Transition Diagram to Computer.
Appendix 1.
Appendix 2.
Index.
Emphasis on formulation:
explains the thinking process required to create an original model via concrete examples, thereby providing guidance and motivation in advance of the theory
Numerous case studies and examples involving realistic applications that demonstrate versatility of the tools and help ease learning                       
Gives students access to standard knowledge in elementary stochastic processes but supplements with more, including spreadsheet calculations and less conventional material
Unique approach to computation:  relates computational solutions to visually recognizable subgraphs of the transition diagram; equally suitable for either numerical or symbolic solutions