Models: Architecture and the Miniature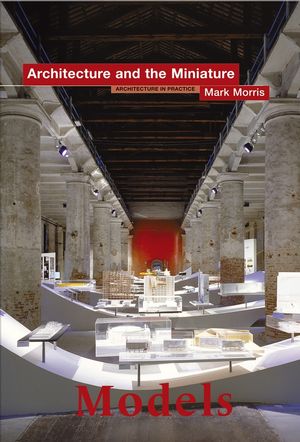 Models: Architecture and the Miniature
ISBN: 978-0-470-01592-6
Oct 2006
216 pages
Description
Today, the physical scale model is a centrepiece for design education, celebrated practices and architecture's public relations. The development of digital fabrication devices has made model manufacture even more pervasive. The physical model is the most accessible form of architectural communication. Clients and the general public seem to immediately respond to and understand the model, over blueprints and computer simulations. 

Many architects use finished models for presentations, competitions and exhibitions. Others also embrace sketch models as quick, economic and flexible generative tools. It is only with the rise of the virtual that the advantages and disadvantages of more traditional models can be fully evaluated. As attested by this book, we are now at an important watershed for the model in architecture. Practitioners and educators alike are seeking to fully understand the multiplicity of model types and how they might be strategically deployed at appropriate stages in the design process. 

The historic role that the model has played is outlined with attention paid to Alberti, John Soane, the Bauhaus and education reforms. A cultural history is offered by examining models in the guise of toys, food, cinema, product design, souvenirs, narrative and art. Model theories are considered and tied to specific examples in the field. New technologies and creative combinations of traditional model-making techniques are evaluated. Kinetic, multi-media, nightscape and interdisciplinary models reveal the broad scope and exceptional versatility offered by this important tool. Models: Architecture and the Miniature focuses on current model use and experimentation by architects across the globe including David Chipperfield, Peter Eisenman, Frank Gehry, Zaha Hadid, Coop Himmelb(l)au, Daniel Libeskind, Greg Lynn and UN Studio.


SERIES: Architecture in Practice
Introduction
: To 3D or Not to 3D.
1 A Model Education.
• Sadar Vuga, House D, Velenje, Slovenia.
• Brain Bowman, Design for a House of under 200 square feet.
• UN Studio, Mercedes Benz Museum, Stuttgart, Germany.
2 Sketch Models.
• José Oubrerie, French Cultural Centre, Damascus, Syria.
• Frank O. Gehry, Gehry Partners, Walt Disney Concert Hall, Los Angeles, USA.
• Le Corbusier and José Oubrerie, Church of Saint-Pierre de Firminy, Firminy-Vert, France.
• NOX, Centre Pompidou 2, Metz, France and Dave Lee, Hayden Planetarium, New York, USA.
3 Representational Modes.
Part 1: Projective Models.
• Zaha Hadid Architects, Placa de las Artes, Barcelona, Spain and Peter Eisenman,.
Tours Musical Conservatory and Contemporary Arts Centre, Tours, France.
• assemblageSTUDIO, Mesquite Fine Arts Center, Mesquite, Nevada, USA.
• Daniel Libeskind, World Trade Center, New York, USA and The Jewish Museum, Berlin, Germany.
• Skidmore, Owings and Merrill, Nanjing Greenland Financial Centre, Nanjing, China.
Part 2: Retrospective Models.
• Peter Wong and students, The University of North Carolina at Charlotte,.
Section Models of various Adolf Loos Villas.
• Greg Snyder, Mobile Gallery, USA.
• Zaha Hadid Architects, National Centre of Contemporary Arts, Rome, Italy.
and Rosenthal Contemporary Art Center, Cincinnati, Ohio, USA.
• David Chipperfield, Literature Museum, Marbach, Germany.
• Coop Himmelb(l)au, BMW Welt, Munich, Germany.
4 Model Culture.
• Peter Wheelwright and Laurie Simmons, The Kaleidoscope House.
• Greg Lynn, Alessi Coffee and Tea Towers.
• Ben Langlands and Nikki Bell, Logo Works #1.
• Bekonscot Model Village, Beaconsfield, Buckinghamshire, UK.
• Mike McCrary, Mike's Amazing Cakes, Seattle, Washington, USA.
• Michael Cadwell, Pastoral Quartet.
• Interview with Gene Rizzardi, Hollywood Models.
5 Virtual Estimations of CAD.
• Jawad al-Tabtaba'i, A Mosque for Dearborn, Michigan, USA.
• Steve Turk, Parenthesis House, Columbus, Ohio, USA.
• Ebru Simsek, Service Pack4Robotnik – Gym Updated, Vienna, Austria.
Conclusion : CAM to the Rescue.
• Keagan Wilson, Drive-through Wedding Chapel, Las Vegas, Nevada, USA.
• Greg Lynn, Uniserve Corporate Headquarters, Los Angeles and Transformation of Kleiburg: Housing Renovation, Bijlmermeer, Amsterdam, The Netherlands.
Notes.
CAD-CAM Resources.
Index.
Bibliography.
Acknowledgements.
Photocredits.
"well presented, well illustrated and reasonably priced." (
The Architects'Journal
, January 2007)
"…starts by delving deep into the historical roots of architectural models using some well-known examples…" (The Architectural Review, March 2007)
"The book is highly recommended." (Building Engineer, April 2007)