Modern Acetylene Chemistry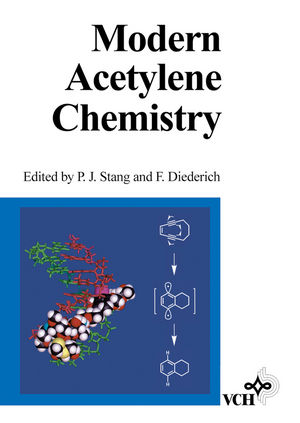 Modern Acetylene Chemistry
ISBN: 978-3-527-61526-1
Sep 2008
527 pages
Description
This comprehensive handbook presents the full potential of modern acetylene chemistry, from organic synthesis through materials science to bioorganic chemistry.

K. Houk, H. Hopf, P. Stang, K. M. Nicholas, N. Schore, M. Regitz, K. C. Nicolaou, R. Gleiter, L. Scott, R. Grubbs, H. Iwamura, J. Moore, and F. Diederich - internationally renowned authors introduce the reader, in a didactically skilful manner, to the state-of-the-art in alkyne chemistry. Emphasis is placed on presenting carefully selected and instructive examples as well as essential references to the original literature.

Special benefits: Each chapter is rounded off by useful experimental procedures.
From the Contents:
Oligoacetylenes/
Cycloalkynes/
Polyacetylene/
Functionalized acetylenes/
Spin materials/
Nanostructures/
Organometallics/
Enediynes/
Posphaacetylenes/
Macrorings/
Theoretical aspects