Modern Auditing & Assurance Services, Study Guide, 5th Edition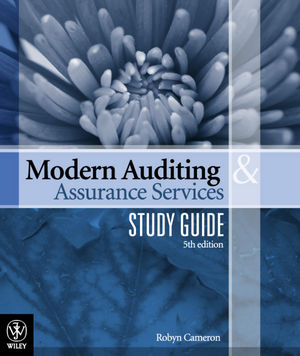 Modern Auditing & Assurance Services, Study Guide, 5th Edition
ISBN: 978-1-742-16846-3
Aug 2011
244 pages
Product not available for purchase
Description
This study guide is designed to complement and reinforce students' understanding of auditing and its principles. The chapter sequence follows Moderrn Auditing & Assurance Services 5th edition by Leung, Coram, Cooper and Richardson.



For each chapter, the study guide contains:
chapter highlights
true-false questions
multiple-choice questions
review questions.
A section on effective studying tips in auditing is included. This section provides useful tips on how to take notes and study for exams.
The benefits of using they study guide are that it:
provides additional material and guidance for working through auditing procedures and processes
tests students' knowledge of the auditing function and principles
is ideal for independent study and examination preparation
provides suggested solutions at the end of each chapter.
Suggestions for Effective Studying in Auditing.
Helpful Examination Techniques.
1. An Overview of Auditing.
2. Governance and the Auditor. 
3. Professional Ethics, Independence and Audit Quality.
4. Other Assurance Engagements and Quality Standards. 
5. The Auditor's Legal Liability.
6. Overview of the Audit of Financial Statements.
7. The Auditor's Report.
8. Client Evaluation and Planning the Audit.
9. Audit Risk Assessment.
10. Materiality and Audit Evidence.
11. Test of Controls.
12. Designing Substantive Procedures.
13. Audit Sampling.
14. Auditing Sales and Receivables.
15. Auditing Purchases, Payables and Payroll.
16. Auditing Inventories and Property, Plant and Equipment.
17. Auditing Cash and Investments.
18. Completing the Audit.