Modern Auditing and Assurance Services 5th Edition + iStudy 2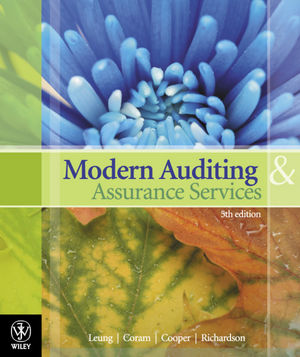 Modern Auditing and Assurance Services 5th Edition + iStudy 2
ISBN: 978-0-730-30908-6
1269 pages
Product not available for purchase
Description
 

Modern Auditing and Assurance Services 5th edition has been thoroughly updated in accordance with the Clarity Auditing Standards and presents a current and thorough coverage of audit and assurance services.

The increased focus on contemporary audit practice - including professional ethics and ethical competence, governance and professional independence, and changes in legal liability for the audit profession - will equip students with the necessary knowledge and skills required by the profession.
Chapter 2 'Governance and the auditor' discusses the role of the auditor and governance, and enhancing accountability through the audit committee
Chapter 7 'The auditors' report' provides an early
Chapter 9 'Audit risk assessment focuses attention on the business risk and audit risk assessment processes which inform audit strategy
Chapter 17 'Non audit and other services' emphasises specific non-audit assurance services provided by accounting professionals
Chapter 18 'Internal audit' includes the latest developments in internal auditing and reflects the importance of this area in corporate governance
Inclusion and explanation of the requirements under the new legally enforceable Australian Auditing Standards (ASAs). These standards are closely aligned with international auditing standards and these standards are also included in the text for courses that offer an international perspective
The new Code of Ethics for Professional Accountants released by the Accounting Professional and Ethical Standards Board (APESB) is thoroughly discussed and integrated with auditors' legal requirements
Incorporates discussion of the business risk approach to auditing as reflected in the revised standards on audit risk, as well as significantly expanded consideration of the importance and requirements on auditors to consider fraud in planning the audit
Considers the increased role of ASIC, via the ASIC audit inspection program, to ensure quality of the audit process
'Professional Environment' vignettes are revised and updated throughout the text. These chapter vignettes present relevant, topical audit issues and/or events that contextualise the audit processes presented in the chapter to the business world
Succinct summary of audit procedures at the beginning of each transaction cycle highlight the most importance procedures and key risks in each cycle.
Professional Environment vignettes apply audit events and processes to real business experiences - ideal for developing an appreciation of the professional environment both locally and globally
Learning Checks, positioned at the end of major sections in the chapter, provide a succinct listing of the key audit issues and processes that the student must know before they proceed further
End-of-chapter exercises and problems have been revised. The majority of the Review Questions and Professional Application Questions are new and drawn from Australian and international professional bodies
Multiple Choice questions at the end of each chapter with answers.