Modern Biooxidation: Enzymes, Reactions and Applications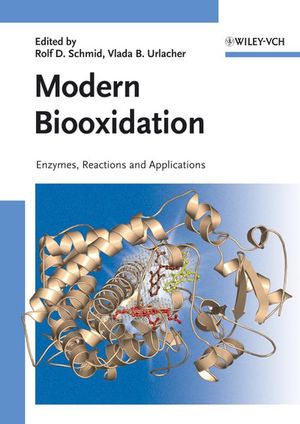 Modern Biooxidation: Enzymes, Reactions and Applications
ISBN: 978-3-527-31507-9
Sep 2007
318 pages
Description
Filling a gap in the literature, leading expert editors and top international authors present the field of biooxidation from an academic and industrial point of view, taking many examples from modern pharmaceutical research. Topics range from the application of different monooxygenases to applications in the pharmaceutical industry, making this volume of high interest not only for those working in biotechnology but also for organic synthetic chemists, among others.
Buy Both and Save 25%!
Original Price:$529.00
Purchased together:$396.75
save $132.25
Cannot be combined with any other offers.
1. INTRODUCTION AND HISTORY
2. BIOOXIDATION FOR MEDICAL AND PHARMACEUTICAL RESEARCH
2.1 Preparation of Drug Metabolites Using Fungal and Bacterial Strains
2.2 Liver Monooxygenases
2.3 Recombinant Human Liver Monooxygenases in Pharmacological Research
2.4 Human Cytochrome P450 Monooxygenases -
A General Model of Substrate Specificity and Regioselectivity
2.5 Steroid Oxidation
3. BIOOXIDATION FOR BIOCATALYSIS AND ORGANIC SYNTHESIS
3.1 Selective Microbial Oxidations in Industry
3.2 PQQ- and FAD-Dependant Oxidases
3.3 Laccases and their Applications
3.4 Dioxygenases and their Applications
3.5 Heme Monooxygenases: A Superfamily, their Substates and their Applications
3.6 Electroenzymologie with Monooxygenases: Challenges, Perspectives and Practical Considerations
3.7 Baeyer-Villiger Monooyxgenases
3.8 Heme Monooxygenases: The Reductase Issue
3.9 A Modular Approach to Biotransformation Using Microbial Cytochromes
4. PLANT MONOOXYGENASES AND THEIR APPLICATIONS
5. COFACTOR REGENERATION
6. BIOOXIDATION IN INDUSTRY

"This book should be of value to those interested in developing such processes." (Journal of Medicinal Chemistry, Volume 51, Number 10)