Modern Buffet Presentation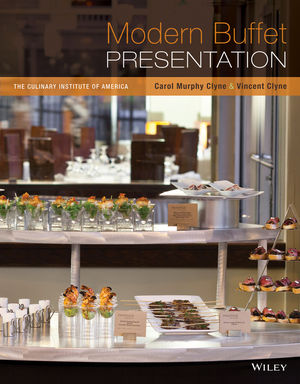 Modern Buffet Presentation
ISBN: 978-1-118-80547-3 June 2014 384 Pages
Description
Modern Buffet Presentation gives readers the ability to plan and execute a successful buffet, an essential skill required for professionals in the restaurant industry and in the rapidly growing field of catering and special events. This text includes guidance on everything, including menu planning and pricing, arranging food and action stations, and training staff, and communicating with clients. Brilliant photography illustrates successful buffet setups, platter arrangements, centerpieces and displays, and much more. From simple cafeteria lines to formal banquets, this text covers every type of buffet presentation imaginable and is an essential resource for anyone who plans or executes buffets.
Acknowledgments

Introduction

Chapter 1. Mise en Place

Chapter 2. Designing the Buffet

Chapter 3. Buffet Equipment

Chapter 4. Executing the Buffet

Chapter 5. Stations: Service and Setup

Chapter 6. Buffet Recipes

Buffet Menus

Glossary

Appendix A. On-site Buffet Planning Worksheet

Appendix B. Sample Catering Menu

Appendix C. Complete Party Planning Spreadsheet

Appendix D. Off-site Buffet Planning Worksheet

Resources

Index 
Examine buffet tactics with emphasis on new and exciting methods of preparation, presentation, and profitability.
Chapters illuminate the actual steps in planning an event: the initial meeting with the client, menu development and ingredient selection, budgeting and staffing, designing and displaying, and the "how to wow."
Provides recipes for dishes that can be held at temperature and that are suitable for intimate dinners or large parties while being budget sensitive.
Skills and techniques are described in detail with attention to the safe handling and holding of foods, the balancing of flavors, colors and textures, and the designing of displays that excite and entice.
Chapter 1, Mise en Place outlines all of the details you need to know to prepare for the execution of the buffet, from the client meeting to developing the concept and theme to making the production plan.
Chapter 2, Designing the Buffet provides thorough instructions and illustrations for designing the buffet in a way that will exceed the customers' expectations every time.
Chapter 3, Buffet Stations: Equipment, Service, and Setup describes the different types of stations that can be incorporated into the buffet including a comprehensive section on action stations and instructs the reader on physically setting up the buffet.
Chapter 4, Executing the Buffet is full of practical information about executing all different types of buffets including portioning information and examples of platter arrangement.