Modern Diffraction Methods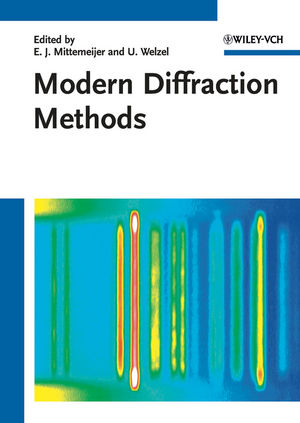 Modern Diffraction Methods
ISBN: 978-3-527-64988-4
Jan 2013
554 pages
Description
The role of diffraction methods for the solid-state sciences has been pivotal to determining the (micro)structure of a material. Particularly,
the expanding activities in materials science have led to the development of new methods for analysis by diffraction. This book offers an authoritative overview of the new developments in the field of analysis of matter by (in particular X-ray, electron and neutron) diffraction. It is composed of chapters written by leading experts on 'modern diffraction methods'. The focus in the various chapters of this book is on the current forefront of research on and applications for diffraction methods. This unique book provides descriptions of the 'state of the art' and, at the same time, identifies avenues for future research.

The book assumes only a basic knowledge of solid-state physics and allows the application of the described methods by the readers of the
book (either graduate students or mature scientists).
PREFACE

PART I: Structure Determination

STRUCTURE DETERMINATION OF SINGLE CRYSTALS
Introduction
The Electron Density
Diffraction and the Phase Problem
Fourier Cycling and Difference Fourier Maps
Statistical Properties of Diffracted Intensities
The Patterson Function
Patterson Search Methods
Direct Methods
Charge Flipping and Low-Density Elimination
Outlook and Summary

MODERN RIETVELD REFINEMENT, A PRACTICAL GUIDE
The Peak Intensity
The Peak Position
The Peak Profile
The Background
The Mathematical Procedure
Agreement Factors
Global Optimization Method of Simulated Annealing
Rigid Bodies
Introduction of Penalty Functions
Parametric Rietveld Refinement

STRUCTURE OF NANOPARTICLES FROM TOTAL SCATTERING
Introduction
Total Scattering Experiments
Structure Modeling and Refinement
Examples
Outlook

PART II: Analysis of the Microstructure

DIFFRACTION-LINE PROFILE ANALYSIS
Introduction
Instrumental Broadening
Structural Specimen Broadening
Practical Application of Line Profile Analysis
Conclusions

RESIDUAL STRESS ANALYSIS BY X-RAY DIFFRACTION METHODS
Introduction
Principles of Near-Surface X-Ray Residual Stress Analysis
Near-Surface X-Ray Residual Stress Analysis by Advanced and Complementary Methods
Final Remarks

STRESS ANALYSIS BY NEUTRON DIFFRACTION
Introductory Remarks
Fundamentals of the Technique
Instrumentation
Capabilities
Examples

TEXTURE ANALYSIS BY ADVANCED DIFFRACTION METHODS
Introduction and Background
Synchrotron X-Rays
Neutron Diffraction
Electron Diffraction
Comparison of Methods
Conclusions
SURFACE-SENSITIVE X-RAY DIFFRACTION METHODS
Introduction
X-Ray Reflectivity
Bragg Scattering in Reduced Dimensions (Crystal Truncation Rod Scattering)
Grazing Incidence X-Ray Diffraction
Experimental Geometries
Trends
THE MICRO- AND NANOSTRUCTURE OF IMPERFECT OXIDE EPITAXIAL FILMS
The Diffracted Amplitude and Intensity
The Correlation Volume
Lattice Strain
Example
Strain Gradients
Conclusions

PART III: Phase Analysis and Phase Transformations

QUANTITATIVE PHASE ANALYSIS USING THE RIETVELD METHOD
Introduction
Mathematical Basis
Applications in Minerals and Materials Research
Summary

KINETICS OF PHASE TRANSFORMATIONS AND OF OTHER TIME-DEPENDENT PROCESSES IN SOLIDS ANALYZED BY POWDER DIFFRACTION
Introduction
Kinetic Concepts
Tracing the Process Kinetics by Powder Diffraction
Mode of Measurement: In Situ versus Ex Situ Methods
Types of Kinetic Processes and Examples
Concluding Remarks

PART IV: Diffraction Methods and Instrumentation

LABORATORY INSTRUMENTATION FOR X-RAY POWDER DIFFRACTION: DEVELOPMENTS AND EXAMPLES
Introduction: Historical Sketch
Laboratory X-Ray Powder Diffraction: Instrumentation
Examples

THE CALIBRATION OF LABORATORY X-RAY DIFFRACTION EQUIPMENT USING NIST STANDARD REFERENCE MATERIALS
Introduction
The Instrument Profile Function
SRMs, Instrumentation, and Data Collection Procedures
Data Analysis Methods
Instrument Qualification and Validation
Conclusions

SYNCHROTRON DIFFRACTION: CAPABILITIES, INSTRUMENTATION, AND EXAMPLES
Introduction
The Underlying Physics of Synchrotron Sources
Diffraction Applications Exploiting High Source Brilliance
High Q-Resolution Measurements
Applications of Tunability: Resonant Scattering
Future: Ultrafast Science and Coherence

HIGH-ENERGY ELECTRON DIFFRACTION: CAPABILITIES, INSTRUMENTATION, AND EXAMPLES
Introduction
Instrumentation
Electron Diffraction Methods in the TEM
Summary and Outlook

IN SITU DIFFRACTION MEASUREMENTS: CHALLENGES, INSTRUMENTATION, AND EXAMPLES
Introduction
Instrumentation and Experimental Challenges
Examples

INDEX

 "It is also well written, covers many topics and conveys significant information. Therefore, it is highly recommended to all researchers in the field either in academia or industry."  (Contemporary Physics, 13 August 2013)