Modern Drying Technology, Volume 2: Experimental Techniques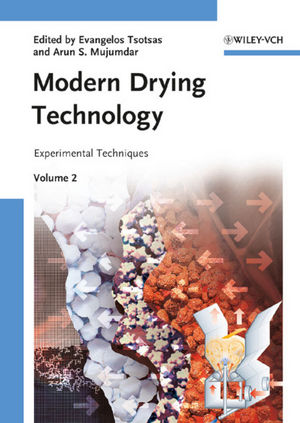 Modern Drying Technology, Volume 2: Experimental Techniques
ISBN: 978-3-527-31557-4
Feb 2009
412 pages
Description
The five-volume series provides a comprehensive overview of all important aspects of drying technology like computational tools at different scales (Volume 1), modern experimental and analytical techniques (Volume 2), product quality and formulation (Volume 3), energy savings (Volume 4) and process intensification (Volume 5).
Based on high-level cutting-edge results contributed by internationally recognized experts in the various treated fields, this book series is the ultimate reference in the area of industrial drying. Located at the intersection of the two main approaches in modern chemical engineering, product engineering and process systems engineering, the series aims at bringing theory into practice in order to improve the quality of high-value dried products, save energy, and cut the costs of drying processes.
Volume 2 comprises experimental methods used in various industries and in research in order to design and control drying processes, measure moisture and moisture distributions, characterize particulate material and the internal micro-structure of dried products, and investigate the behavior of particle systems in drying equipment. Key topics include acoustic levitation, near-infrared spectral imaging, magnetic resonance imaging, X-ray tomography, and positron emission tracking.


Other Volumes and Sets:
Volume 1 - Modern Drying Technology, Computational Tools at Different Scales
Volume 1: Diverse model types for the drying of products and the design of drying processes (short-cut methods, homogenized, pore network, and continuous thermo-mechanical approaches) are treated, along with computational fluid dynamics, population balances, and process systems simulation tools. Emphasis is put on scale transitions.
Volume 3 - Modern Drying Technology: Product Quality and Formulation
Volume 3: Discusses how desired properties of foods, biomaterials, active pharmaceutical ingredients, and fragile aerogels can be preserved during drying, and how spray drying and spray fluidized bed processes can be used for particle formation and formulation. Methods for monitoring product quality, such as process analytical technology, and modeling tools, such as Monte Carlo simulations, discrete particle modeling and neural networks, are presented with real examples from industry and academia.
Volume 4 - Modern Drying Technology: Energy Savings

Volume 4: Deals with the reduction of energy demand in various drying processes and areas, highlighting the following topics: Energy analysis of dryers, efficient solid-liquid separation techniques, osmotic dehydration, heat pump assisted drying, zeolite usage, solar drying, drying and heat treatment for solid wood and other biomass sources, and sludge thermal processing.


Volume 5 - Process Intensification
Volume 5: Dedicated to process intensification by more efficient distribution and flow of the drying medium, foaming, controlled freezing, and the application of superheated steam, infrared radiation, microwaves, power ultrasound and pulsed electric fields. Process efficiency is treated in conjunction with the quality of sensitive products, such as foods, for a variety of hybrid and combined drying processes.
Available in print as 5 Volume Set or as individual volumes. Buy the Set and SAVE 30%!
Also available in electronic formats.

Original Price:$1,038.00
Purchased Together:$835.00
save $203.00
Series Preface.
Preface of Volume 2.
List of Contributors.
Recommended Notation.
EFCE Working Party on Drying: Address List.
1 Measurement of Average Moisture Content and Drying Kinetics for Single Particles, Droplets and Dryers (Mirko Peglow, Thomas Metzger, Geoffrey Lee, Heiko Schiffter, Robert Hampel, Stefan Heinrich, and Evangelos Tsotsas).
1.1 Introduction and Overview.
1.2 Magnetic Suspension Balance.
1.3 Infrared Spectroscopy and Dew Point Measurement.
1.4 Coulometry and Nuclear Magnetic Resonance.
1.5 Acoustic Levitation.
1.6 Concluding Remarks.
2 Near-Infrared Spectral Imaging for Visualization of Moisture Distribution in Foods (Mizuki Tsuta).
2.1 Introduction.
2.2 Principles of Near-Infrared Spectral Imaging.
2.3 Image Processing.
2.4 Applications of Near-Infrared Spectral Imaging for Visualization of Moisture Distribution.
2.5 Future Outlook.
3 Magnetic Resonance Imaging for Determination of Moisture Profiles and Drying Curves (Stig Stenström, Catherine Bonazzi, and Loïc Foucat).
3.1 Introduction.
3.2 Principles of MRI for Determination of Moisture Profiles.
3.3 MRI Applications to Drying of Paper, Pulp and Wood Samples.
3.4 MRI Applications to Drying of Agricultural and Food Samples.
3.5 Conclusion.
4 Use of X-Ray Tomography for Drying-Related Applications (Angélique Léonard, Michel Crine, and Frantisek Stepanek).
4.1 Fundamentals and Principles.
4.2 Instrumentation.
4.3 Image Processing.
4.4 Applications.
4.5 Future Outlook.
5 Measuring Techniques for Particle Formulation Processes (Stefan Heinrich, Niels G. Deen, Mirko Peglow, Mike Adams, Johannes A.M. Kuipers, Evangelos Tsotsas, and Jonathan P.K. Seville).
5.1 Introduction.
5.2 Measurement of Particle Size.
5.3 Measurement of Particle Concentrations, Velocities, and Hydrodynamic Stability.
5.4 Measurement of Mechanical Stability of Particles during Fluidized Bed Processing.
5.5 Characterization of the Mechanical Properties of Partially and Fully Saturated Wet Granular Media.
5.6 Conclusions.
6 Determination of Physical Properties of Fine Particles, Nanoparticles and Particle Beds (Werner Hintz, Sergiy Antonyuk, Wolfgang Schubert, Bernd Ebenau, Aimo Haack, and Jürgen Tomas).
6.1 Introduction to Common Particle Properties.
6.2 Analysis of Particle Size Distribution.
6.3 Measurement of the Physical Properties of Particles.
6.4 Testing of Particle Bed Properties.
6.5 Measurement of Particle Bed Movement in Rotary Drums by High-Speed Camera.
6.6 Conclusions.
References.
Index.
"The book will be of particular interest to chemical engineers involved with unit operations."  (The Catalyst, 1 April 2011)