Modern Financial Macroeconomics: Panics, Crashes, and Crises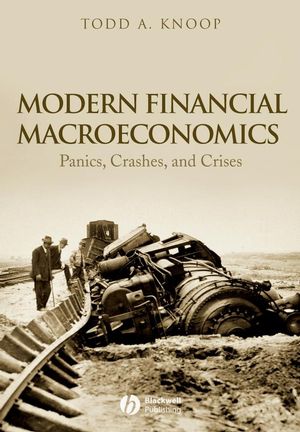 Modern Financial Macroeconomics: Panics, Crashes, and Crises
ISBN: 978-1-405-16180-0 April 2008 Wiley-Blackwell 292 Pages
Description
Modern Financial Macroeconomics takes a non-technical approach in examining the role that financial markets and institutions play in shaping outcomes in the modern macro economy.



Reviews historical and contemporary macroeconomic theory

Examines governmental influence on moderating (or exacerbating) economic fluctuations

Discusses both empirical and theoretical links between financial systems and economic performance, as well as case studies detailing the role of finance in specific business cycle episodes
List of Figures.
List of Tables.
List of Case Studies.
Preface.
Introduction.
Part I: An Introduction to Finance and Macroeconomics:.
1. The Basics of Financial Markets and Financial Institutions.
2. A Brief History of Financial Development.
Part II: Macroeconomic Theory and the Role of Finance:.
3. Business Cycles and Early Macroeconomic Theories of Finance.
4. Keynesian, Monetarist, and Neoclassical Theories.
5. New Institutional Theories of Finance: Models of Risk and the Costs of Credit Intermediation.
6. New Institutional Theories of Finance: Models of Credit Rationing.
Part III: Financial Volatility and Economic [In]Stability:.
7. The Role of Financial Systems in Monetary and Stabilization Policy.
8. Banking Crises and Asset Bubbles.
Part IV: International Finance and Financial Crises:.
9. Capital Flight and the Causes of International Financial Crises.
10. International Financial Crises: Policies and Prevention.
Part V: Conclusions:.
11. What We have Learned, What We Still Need to Learn about Financial Macroeconomics.
Bibliography.
Index


Takes a comprehensive, non-technical look at the role of financial markets and institutions on modern macroeconomics

Reviews historical and contemporary macroeconomic theory

Examines governmental influence on moderating (or exacerbating) economic fluctuations

Discusses both empirical and theoretical links between financial systems and economic performance, as well as case studies detailing the role of finance in specific business cycle episodes