Modern Financial Markets: Prices, Yields, and Risk Analysis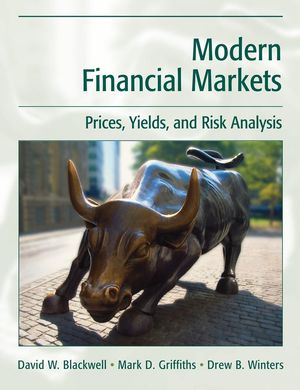 Modern Financial Markets: Prices, Yields, and Risk Analysis
ISBN: 978-0-470-00010-6
Dec 2006
512 pages
Description
Designed for undergrads and MBA students, Modern Financial Markets takes a modern approach to financial markets by focusing on markets rather than institutions. Valuation and Risk Management are covered ""under one roof"" rather than separately giving the student a real-world approach to financial markets.
Chapter 1. Overview of Risk, return, and Efficiency in Financial Markets.
Chapter 2. Overview of Financial Institutions.
Chapter 3. The Level and Structure of Interest Rates.
Chapter 4. Money Markets.
Chapter 5. Bond Valuation.
Chapter 6. Mortgage Valuation.
Chapter 7. Equity Valuation.
Chapter 8. Foreign Exchange Markets.
Chapter 9. Forward and Futures Contracts.
Chapter 10. Option Markets.
Chapter 11. Introduction to Risk Management.
Chapter 12. Money Market Risk Management.
Chapter 13. Bond Risk Management.
Chapter 14. Mortgage Risk Management.
Chapter 15. Stock Portfolio Formation and Risk Management.
Chapter 16. Foreign Currency Risk Management.
Chapter 17. Derivative Risk Management.
Chapter 18. Interest Rate Derivatives.
Chapter 19. An Introduction to Credit Derivatives.
Chapter Introductions serve as guideposts that link the previous chapter material to the next chapter.

Each chapter ends with summary valuation and risk management skills that are developed.

Featured examples offer stepped-out/solved examples of complex equations and applications.

Industry Application boxes show the contemporary relevance of material.

Questions and problems included at the end of each chapter.