Modern Methods for Trace Element Determination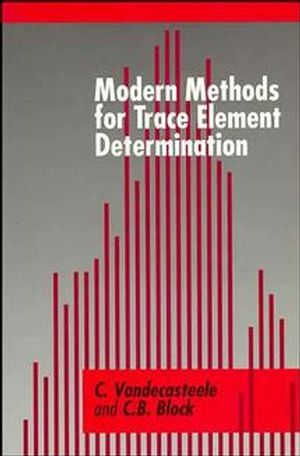 Modern Methods for Trace Element Determination
ISBN: 978-0-470-86544-6
Nov 2000
344 pages
Description
Describes the theory, apparatus, performance and usage of modern methods for trace element determination, atomic absorption, emission, fluorescence and mass spectroscopies, x-ray techniques and activation analysis. Attention is given to sample preparation, current calibration procedures and to methods for trace element speciation. Contains in-depth information on relatively new techniques such as ICP-MS and PIXE. All methods are illustrated with authentic examples from the ever-expanding fields of environmental and biological analysis of high purity materials.
Sample Preparation.

Methodology in Trace Element Determination.

Spectrochemical Measurements.

Atomic Absorption Spectrometry.

Atomic Emission Spectrometry.

Atomic Fluorescence Spectrometry.

Comparison of Atomic Spectrometric Analytical Techniques.

Mass Spectrometry.

X-Ray Methods.

Activation Analysis.

Metal Speciation.

Index.