Modern Oxidation Methods, 2nd Edition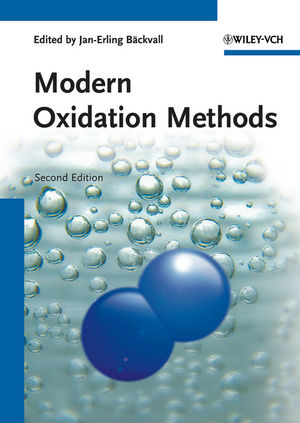 Modern Oxidation Methods, 2nd Edition
ISBN: 978-3-527-63227-5 August 2011 481 Pages
Description
While rust is an unwanted oxidation reaction, there are also many other useful oxidation reactions that are extremely important and number among the most commonly used reactions in the chemical industry.
This completely revised, updated second edition now includes additional sections on industrial oxidation and biochemical oxidation.
Edited by one of the world leaders in the field, high-quality contributions cover every important aspect from classical to green chemistry methods:

- Recent Developments in Metal-catalyzed Dihydroxylation of Alkenes
- Transition Metal-Catalyzed Epoxidation of Alkenes
- Organocatalytic Oxidation. Ketone-Catalyzed Asymmetric Epoxidation of Alkenes and Synthetic Applications
- Catalytic Oxidations with Hydrogen Peroxide in Fluorinated Alcohol Solvents
- Modern Oxidation of Alcohols using Environmentally Benign Oxidants
- Aerobic Oxidations and Related Reactions Catalyzed by N-Hydro xyphthalimide
- Ruthenium-Catalyzed Oxidation for Organic Synthesis
- Selective Oxidation of Amines and Sulfides
- Liquid Phase Oxidation Reactions Catalyzed by Polyoxometalates
- Oxidation of Carbonyl Compounds
- Manganese-Catalyzed Oxidation with Hydrogen Peroxide
- Biooxidation with Cytochrome P450 Monooxygenases

By providing an overview of this vast topic, the book represents an unparalleled aid for organic, catalytic and biochemists working in the field.
Preface
RECENT DEVELOPMENT IN METAL-CATALYZED DIHYDROXYLATION OF OLEFINS
Introduction
Environmentally Friendly Terminal Oxidants
Supported Osmium Catalysts
Ionic Liquids
Ruthenium Catalysts
Iron Catalysts
Conclusions
TRANSITION METAL-CATALYZED EPOXIDATION OF ALKENES
Introduction
Choice of Oxidant for Selective Epoxidation
Epoxidations of Alkenes Catalyzed by Early Transition Metals
Molybdenum and Tungsten-Catalyzed Epoxidations
Manganese-Catalyzed Epoxidations
Rhenium-Catalzyed Epoxidations
Iron-Catalyzed Epoxidations
Ruthenium-Catalyzed Epoxidations
Epoxidations Using Late Transition Metals
Concluding Remarks
ORGANOCATALYTIC OXIDATION. KETONE-CATALYZED ASYMMETRIC EPOXIDATION OF OLEFINS AND SYNTHETIC APPLICATIONS
Introduction
Catalyst Development
Synthetic Applications
Conclusion
CATALYTIC OXIDATIONS WITH HYDROGEN PEROXIDE IN FLUORINATED ALCOHOL SOLVENTS
Introduction
Properties of Fluorinated Alcohols
Epoxidation of Alkenes in Fluorinated Alcohol Solvents
Sulfoxidation of Thioethers in Fluorinated Alcohol Solvents
Baeyer-Villiger Oxidations of Ketones in Fluorinated Alcohol Solvents
Epilog
MODERN OXIDATION OF ALCOHOLS USING ENVIRONMENTALLY BENIGN OXIDANTS
Introduction
Oxoammonium Based Oxidation of Alcohols -
TEMPO as Catalyst
Metal-Mediated Oxidation of Alcohols -
Mechanism
Ruthenium-Catalyzed Oxidations with O2
Palladium-Catalyzed Oxidations with O2
Copper-Catalyzed Oxidations with O2
Other Metals as Catalysts for Oxidation with O2
Catalytic Oxidation of Alcohols with Hydrogen Peroxide
Concluding Remarks
AEROBIC OXIDATIONS AND RELATED REACTIONS CATALYZED BY N-HYDROXYPHTHALIMIDE
Introduction
NHPI-Catalyzed Aerobic Oxidation
Functionalization of Alkanes Catalyzed by by NHPI
Carbon-Carbon Bond Forming Reaction via Catalytic Carbon Radicals Generation Assisted by NHPI
Conclusions
RUTHENIUM-CATALYZED OXIDATION FOR ORGANIC SYNTHESIS
Introduction
RuO4-Promoted Oxidation
Oxidation with Low Valent Ruthenium Catalysts and Oxidants
SELECTIVE OXIDATION OF AMINES AND SULFIDES
Introduction
Oxidation of Sulfides to Sulfoxides
Oxidation of Tertiary Amines to N-Oxides
Concluding Remarks
LIQUID PHASE OXIDATION REACTIONS CATALYZED BY POLYOXOMETALATES
Introduction
Polyoxometalates (POMs)
Oxidation with Mono-Oxygen Donors
Oxidation with Peroxygen Compounds
Oxidation with Molecular Oxygen
Heterogenization of Homogeneous Reactions -
Solid-Liquid, Liquid-Liquid, and Alternative Reaction Systems
Conclusion
OXIDATION OF CARBONYL COMPOUNDS
Introduction
Oxidation of Aldehydes to Carboxylic Acids
Oxidation of Ketones
MANGANESE CATALYSED OXIDATION WITH HYDROGEN PEROXIDE
Introduction
Bio-Inspired Manganese Oxidation Catalysts
Manganese-Catalyzed Bleaching
Epoxidationand cis-Dihydroxylation of Alkenes
Manganese Catalysts for the Oxidation of Alkanes, Alcohols, and Aldehydes
Conclusions
BIOOXIDATION WITH CYTOCHROME P450 MONOOXYGENASES
Introduction
Properties of Cytochrome P450 Monooxygenases
Application and Engineering of P450s for the Pharmaceutical Industry
Application of P450s for Synthesis of Fine Chemicals
Engineering of P450s for Biocatalysis
Future Trends
The second edition is completely revised and updated. It also contains new chapters on industrial oxidation and biochemical oxidation.