Modern Project Finance: A Casebook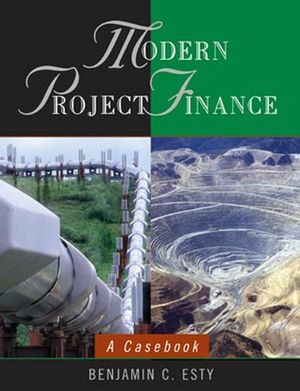 Modern Project Finance: A Casebook
ISBN: 978-0-471-43425-2
Oct 2003
544 pages
Description
Written as a guide to a dynamic, and increasingly important field, Modern Project Finance: A Casebook provides a detailed description and analysis of project-financed transactions. Other books describe what project finance is and how it works--Benjamin Esty, of the Harvard Business School, brings his expertise to a collection of cases that analyze the challenges of structuring, valuing, and financing project companies.
Acknowledgments.
About the Author.
1. Introduction to Modern Project Finance.
2. An Overview of Project Finance.
3. Why Study Large Projects?
MODULE 1. STRUCTURE PROJECTS.
4. The Chad-Cameroon Petroleum Development and Pipeline Project (A).
5. Australia-Japan Cable: Structuring the Project Company.
6. Calpine Corporation: The Evolution from Project to Corporate Finance.
7. BP Amoco (A): Policy Statement on the Use of Project Finance.
8. BP Amoco (B): Financing Development of the Caspian Oil Fields.
MODULE 2. VALUING PROJECTS.
9. Airbus A3XX: Developing the World's Largest Commercial Jet (A).
10. Nghe An Tate & Lyle Sugar Company (Vietnam).
11. An Economic Framework for Assessing Development Impact.
12. Texas High-Speed Rail Corporation.
13. Contractual Innovation in the UK Energy Markets: Enron Europe, The Eastern Group, and the Sutton Bridge Project .
14. Bidding for Antamina
MODULE 3: MANAGING RISKY PROJECTS.
15. Petrolera Zuata, Petrozuata C.A.
16. Poland's A2 Motorway.
17. Restructuring Bulong's Project Debt.
18. Mobile Energy Services Company.
19. Financing the Mozal Project.
MODULE 4. FINANCING PROJECTS.
20. Chase's Strategy for Syndicating the Hong Kong Disneyland Loan (A).
21. The International Investor: Islamic Finance and the Equate Project .
22. Introduction to Islamic Finance (note).
23. Financing PPL Corporation's Growth Strategy.
24. Basel II: Assessing the Default and Loss Characteristics of Project Finance Loans.
25. Iridium LLC.
REFERENCE MATERIAL.
Project Finance Research, Data, and Information Sources.
Project Finance Glossary.
Index.
Provides a new and interesting setting in which to teach advanced principles of corporate finance.
The cases provide comprehensive coverage of project finance in terms of actual use (i.e., geographic regions, industrial sectors, stages of project execution, etc.) so the reader can see the full range of practice. Cases are set in power, telecom, oil and gas, and mining, and in a range of countries such as Kuwait, Vietnam, Venezuela and Chad.
Because most cases were written in conjunction with the people actually involved with the deals, the cases include contractual details, commentary, and financial projections that are not typically disclosed through public documents.
The case studies are "managerial" in nature. They provide descriptive details, but they challenge readers to make important managerial decisions. Readers must identify critical issues (key questions), analyze the available data, and create a plan of action or respose. This process helps students become more adept at management in a way that replicates practice.
The cases have been "battle-tested" in the classroom. The author has taught every case multiple times, and revised them to ensure they achieve their pedagogical objectives. The teaching notes have been tested and revised-they work in practice.