Modern Radio Science 1999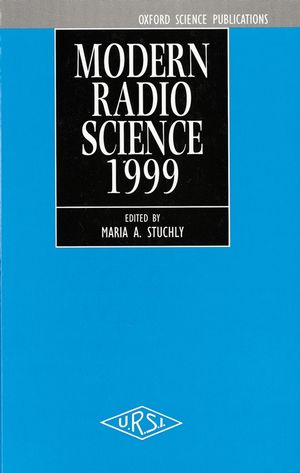 Modern Radio Science 1999
ISBN: 978-0-780-36002-0
Sep 1999, Wiley-IEEE Press
338 pages
Description
""This book contains fifteen chapters written by world leaders in various research areas in radio science. Each chapter describes the most exciting and important scientific developments that have taken place during the last three years. Fundamental information for a non-specialist is provided to facilitate understanding, and in addition, the most current developments are highlighted.

Several chapters deal with issues of radio communication - for example, satellite communication, mobile communication, and associated measurements - and discuss the resultant problems in electro-magnetic spectrum congestion. Three chapters outline closely associated issues, namely new ways of modeling and designing systems, components and antennas. New developments and techniques are also covered in the scientific applications of radar, radio astronomy, and plasma waves. In two chapters attention is devoted to quite different research issues at very low frequencies: those of atmospheric noise and interference, and the biological effects of power-line electromagnetic fields.""
PUBLIC LECTURE.

The Past, Present and Future of Satellite Communications (J. Evans).

GENERAL LECTURES.

Engineering Issues in Space Weather (L. Lanzerotti, et al.).

Space-to-Ground Interferometry for Radio Astronomy (H. Hirabayashi).

Future Generations of Mobile Communications System -- The Scientific Aspects (J. Andersen).

TUTORIAL LECTURES.

Commission A: EM Metrology Issues in Wireless Communications (Q. Balzano).

Commission B: Electromagnetic System Design Using Genetic Algorithms (E. Michielssen, et al.).

Commission C: Intelligent Antennas for Future Wireless Communications (G. Delisle, et al.).

Commission D: High-Impedance Electromagnetic Surfaces (D. Sievenpiper and E. Yablonovitch).

Commission E: ELF Sferics and Lightning Effects on the Middle and Upper Atmosphere (D. Jones).

Commission F: Remote Characterization of Geophysical Phenomena Using EM Waves (D. Gjessing).

Commission G: Radar Systems in Ionospheric Research (J. Rottger).

Commission H: The Measurement of Wave Distribution Functions (L. Storey).

Commission J: Radio Stars: The High Sensitivity Frontier (A. Taylor).

Commission K: An Assessment of the Bioeffects Induced by Power-Line Frequency Electromagnetic Fields (R. Reiter).

Inter-Commission Working Group: Spectrum Congestion (P. Delogne and W. Baan).