Modern Raman Spectroscopy: A Practical Approach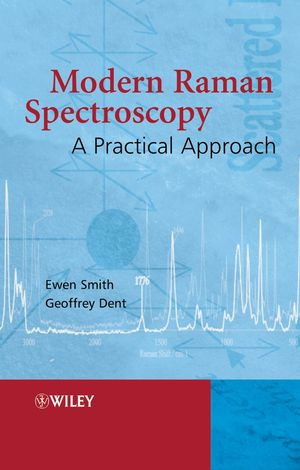 Modern Raman Spectroscopy: A Practical Approach
ISBN: 978-1-118-68132-9
Mar 2013
208 pages
Description
This book reflects the dramatic increase in the number of Raman spectrometers being sold to and used by non-expert practitioners. It contains coverage of Resonance Raman and SERS, two hot areas of Raman, in a form suitable for the non-expert.
Builds Raman theory up in stages without overloading the reader with complex theory
Includes two chapters on instrumentation and interpretation that shows how Raman spectra can be obtained and interpreted
Explains the potential of using Raman spectroscopy in a wide variety of applications
Includes detailed, but concise information and worked examples
Preface.
Acknowledgements.
CHAPTER 1: INTRODUCTION, BASIC THEORY AND PRINCIPLES.
1.1 Introduction.
1.2 Basic Theory.
1.3 Molecular Vibrations.
1.4 Summary.
CHAPTER 2: THE RAMAN EXPERIMENT – RAMAN INSTRUMENTATION, SAMPLE PRESENTATION, DATA HANDLING AND PRACTICAL ASPECTS OF INTERPRETATION.
2.1 Introduction.
2.2 Choice of Instrument.
2.3 Visible Excitation.
2.4 NIR Excitation.
2.5 Raman Sample Preparation and Handling.
2.6 Sample Mounting Accessories.
2.7 Microscopy.
2.8 Calibration.
2.9 Data Handling, Manipulation and Quantitation.
2.10 Approach to Qualitative Interpretation.
2.11 Summary.
CHAPTER 3: THE THEORY OF RAMAN SPECTROSCOPY.
3.1 Introduction.
3.2 Absorption and Scattering.
3.3 States of a System and Hooke's Law.
3.4 The Nature of Polarizability and the Measurement of Polarization.
3.5 The Basic Selection Rule.
3.6 Number and Symmetry of Vibrations.
3.7 Symmetry Elements and Point Groups.
3.8 The Mutual Exclusion Rule.
3.9 The Kramer Heisenberg Dirac Expression.
3.10 Lattice Modes.
3.11 Conclusions.
CHAPTER 4: RESONANCE RAMAN SCATTERING.
4.1 Introduction.
4.2 Theoretical Aspects.
4.3 Practical Aspects.
4.4 Examples of the Use of Resonance Raman Scattering.
4.5 Conclusions.
CHAPTER 5: SURFACE-ENHANCED RAMAN SCATTERING AND SURFACE-ENHANCED RESONANCE RAMAN SCATTERING.
5.1 Introduction.
5.2 Theory.
5.3 Electromagnetic and Charge Transfer Enhancement.
5.4 Selection Rules.
5.5 Applications of SERS.
5.6 Applications of SERRS.
5.7 The Basic Method.
CHAPTER 6: APPLICATIONS.
6.1 Introduction.
6.2 Inorganics and Minerals.
6.3 Art and Archaeology.
6.4 Polymers and Emulsions.
6.5 Colour.
6.6 Electronics Applications.
6.7 Biological and Pharmaceutical Applications.
6.8 Forensic Applications.
6.9 Plant Control and Reaction Following.
6.10 Summary.
CHAPTER 7: MORE ADVANCED RAMAN SCATTERING TECHNIQUES.
7.1 Flexible Optics.
7.2 Tuneable Lasers, Frequency Doubling and Pulsed Lasers.
7.3 Spatially Resolved Systems.
7.4 Nonlinear Raman Spectroscopy.
7.5 Time Resolved Scattering.
7.6 Raman Optical Activity.
7.7 UV Excitation.
7.8 Conclusions.
Index.
"...the book achieves its aims of outlining a very wide range of applications…" (
Physical Sciences Educational Reviews
, December 2006)
"…a useful starting point for the chemist who is just entering the field…" (Analytical Chemistry, January 1, 2006)
"…everything is here in this highly recommended primer on the subject." (CHOICE, October 2005)
Builds Raman theory up in stages without overloading the reader with complex theory   
Includes two chapters on instrumentation and interpretation that shows how Raman spectra can be obtained and interpreted   
Explains the potential of using Raman spectroscopy in a wide variety of applications   
Includes detailed, but concise information and worked examples