Modern Real Estate, 5th Edition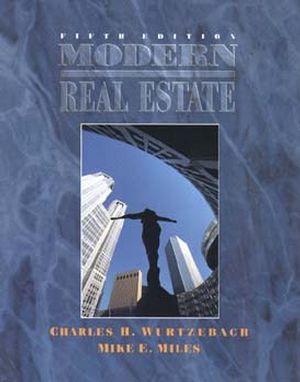 Modern Real Estate, 5th Edition
ISBN: 978-0-471-30951-2
Oct 1994
880 pages
Description
Written by real estate professionals, this book assembles the most comprehensive overview of real estate principles available. It uses an array of intriguing topics which covers the numerous issues that give real estate its distinctive flavor. In this edition all exhibits, tables and boxes have been updated or replaced with current material. Contains a thorough treatment of the growing implications of institutional (pension fund) investment in commercial real estate. Also discusses Clinton economics and the new tax law.
Partial table of contents:

THE ANALYTICAL FRAMEWORK.

The American Real Estate Industry: An Overview.

Regional and Urban Economics.

Spatial Economics: Rent, Situs, and Succession Theory.

THE LEGAL ENVIRONMENT.

Real Estate Interests and Forms of Ownership.

Transferring Real Estate Interests.

VALUATION AND THE APPRAISAL PROCESS.

The Sales Comparison Approach and the Cost Approach.

MARKETING, BROKERAGE, AND MANAGEMENT.

Marketing.

Brokerage.

Asset Management: The Property Management Perspective.

REAL ESTATE FINANCE.

The Financial System and Real Estate Finance.

Financing Mechanics: The Borrower's Perspective.

Mortgage Underwriting: The Lender's Perspective.

The Secondary Mortgage Markets.

REAL ESTATE TAXATION.

Income and Property Taxation.

INVESTMENT ANALYSIS.

Principles of Investment.

The Discounted Cash-Flow Model.

REAL ESTATE DEVELOPMENT.

Land Use Feasibility Analysis.

PUBLIC POLICY AND PROSPECTS FOR THE FUTURE.

Government Involvement.

Appendix.

Compound Interest Tables.

Glossary.

Index.