Modern Safety and Resource Control Management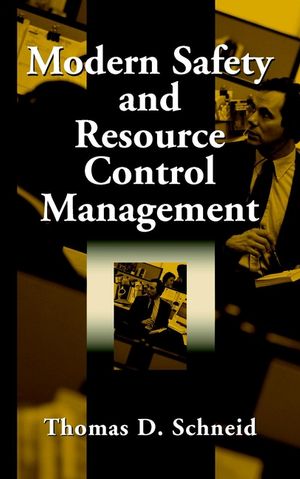 Modern Safety and Resource Control Management
ISBN: 978-0-471-33118-6 December 1999 323 Pages
Description
A highly effective approach to safety and health management in theindustrial setting.

Over the past two decades, the role of workplace safety and healthprofessionals has expanded dramatically to encompass not only OSHAcompliance, but a host of other regulatory and risk managementareas such as fire protection, workers' compensation, insurance,quality control, and more. Defining this new role as the managementof safety and resource control, this timely and comprehensive workintroduces a unique method for effectively managing both lossprevention and the safety function in the industrial setting. Theauthor incorporates MBO and TQM management techniques as well ascontemporary ideas and technologies, providing clear guidelines anddiscussions on how to implement the new approach to the lossprevention and safety function, including:
* How to use a circular management pattern to design, implement,and manage regulatory compliance programs
* How to deal with emerging risk issues such as ergonomics,tuberculosis, or workplace violence
* How to establish a new goal methodology based on performancerather than injuries/illnesses
* How new technologies affect the loss prevention and safetyfunction
* How to assess one's current program, perform cost/benefitanalysis, and build an individual action plan
* How to minimize risks of corporate and individualliabilities
* Where to find information on different federal and state laws andregulations
Table of contents
Functions and Frictions.

Learning from the Past.

Driving Forces.

In Search of the Safety Grail.

One Size Does Not Fit All.

Cultural Shift and Psychological Nexus.

My Problem Employees.

Compliance as the Foundation.

Quality and Ethical Considerations.

The Compliance Circle.

Capturing the Entrepreneurial Spirit.

A Team is Better Than the Sum of Its Parts.

Give'em the Tools to Be Successful.

Thinking Outside the Traditional Box.

Hold'em Accountable.

You Pay the Bill.

Safety and the Law.

The Wired World.

Know Where You are and Where You Want to Go.

The Ravioli Methodology.

Keeping Up with the Joneses.

The Expansion Draft.

The Wall Street Influence.

Maximize Your Strengths and "Cut" Your Losses.

The Grapevine Influence.

The Future of Safety and Resource Control.

Appendices.

Index.