Modern Standardization: Case Studies at the Crossroads of Technology, Economics, and Politics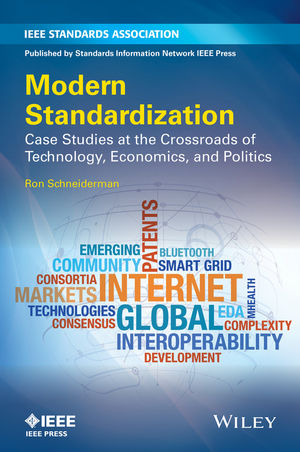 Modern Standardization: Case Studies at the Crossroads of Technology, Economics, and Politics
ISBN: 978-1-118-67859-6
Mar 2015
288 pages
Description
This book includes a collection of standards-specific case studies. The case studies offer an opportunity to combine the teaching preferences of educators with the goals of the SEC (Standards Education Committee); providing students with "real-world" insight into the technical, political, and economic arenas of engineering.
Encourages students to think critically about standards development and technology solutions
Reinforces the usage of standards as an impetus for innovation
Will help understand the dynamics and impacts of standards
A curriculum guide is available to instructors who have adopted the book for a course. To obtain the guide, please send a request to: ieeeproposals@wiley.com.
Introduction 1
About This Book, 2
The Push for Open Standards, 3
Enter Openstand, 4
The Internet and Its Impact on Standards, 5
Where Does All This Leave SDOs?, 7
Rolling Out IPv6, 7
Standards and Trade, 8
Consortia—Chaos and Compromise, 10
Case Study Topics in This Book, 11
1. Smart Grid Takes on Critical Standards Challenges 14
A System-of-Systems, 16
Jump Starting the Smart Grid, 17
The Standards Priority, 19
Strictly Business, 22
United States Has a Running Start, 23
Smart Meter Concerns, 24
IEEE and the Smart Grid, 26
Catalog of Standards, 28
Timing is Everything, 29
Europe's Interconnected Grid, 30
China Goes Smart, 31
The Smart Grid in Cities, 34
Wireless Everywhere, 35
Advantage, Consumer, 38
Leveraging Home Networks, 41
Conformity Assessment, 43
Cybersecurity Becomes a Major Issue, 46
Solar Flare Threats, 49
More to Come, 52
2. Bluetooth and ZigBee—Fast-Paced Standards Development Boosts Growth 56
Jump Starting the Technology, 57
Interoperability—the (Almost) Killer Issue, 58
Why "Bluetooth?", 62
Bluetooth Standards Development: A Timeline, 65
Bluetooth Today, 69
The ZigBee Story, 70
The Bluetooth and Wi-Fi Gap, 72
Fits and Starts, 73
ZigBee Products, 74
Changing of the Guard, 75
Recent ZigBee Smart Grid Developments, 76
3. Developing a Standard for Electrical Trace Heating 79
Why a New Standard was Needed, 80
Establishing a New Standard, 82
Putting Aside Differences, 83
Forming a Working Group, 83
Confidence Surges, 85
Manufacturers Experience Growth, 86
Going Global, 87
History and Timeline of IEEE 515, 88
What's Next? A Jointly Developed International Standard:
IEC/IEEE 60079-30, 89
4. TV "White Space" Standards Open New Markets 92
Making It Happen, 93
Protecting the System, 94
Setting a Standard, 95
Super Wi-Fi?, 97
Plugging Dynamic Spectrum Access, 99
DSA and the Military, 100
Finding Common Ground, 101
Economics of TV White Spaces, 103
About Those Broadcasters, 104
Wireless MICS Become an Issue, 105
Never Mind, 107
The Global Impact, 108
Future Challenges, 110
Japan Adopts White Space, 113
Another Major Market, 114
What's Next?, 115
Spectrum Sensing, 118
5. New and Emerging Standards Help Promote Medical Device Development 121
Multiple Solutions, 122
Too Many Radios?, 124
A Work in Progress, 125
Going to Market, 127
Plenty of Standards, More Coming, 128
FDA Recognizes IEEE Standards, 129
A Device, Not a Device, 132
FDA Defines Its "Standards", 133
NFC Standards and Devices, 135
Medical Device Design Challenges, 136
More Market Research, 137
Major Markets, Players, 139
M2M in Telecare, 140
Internet of (Medical) Things, 142
The IP Wars, 143
Privacy Issues, 144
6. Wireless Chargers Become A Standards Battle Zone 145
Going Global, 147
Charged Up, 147
How It Works, 150
The Resonance Approach, 152
PMA and A4WP Unite, 153
For PMA: An Open Spec, 155
The Test Market: Starbucks and McDonald's, 157
Getting the Word Out, 159
Intel Inside, 160
Military Needs Wireless Charging, 163
Apple Gets a Bite, 164
Innovative, Alternative Approaches to Wireless Power, 166
7. Vehicle "Black Box" Gets Its Own Standard 171
Some Background…, 172
Jump Starting EDRs, 173
Cost Becomes an Issue, 174
More Studies, More Data, 175
A Major Standard Revision, 177
Privacy a Driving Issue, 178
Updating Driver Privacy, 181
Hacking Your Car Code, 182
Europe Test Drives EDRs, 183
More GM Recalls, 185
More Technology, 186
8. EDA Sets the Standard for Complexity 188
Where do EDA Standards Come From?, 189
Semiconductors and EDA, 191
Works in Progress, 193
It's a Business, 194
Key Standards, 196
EDA Consolidations—Consortia and Companies, 197
EDA and the Internet, 200
Back to School, 201
9. Internet of Things/M2M—A (Standards) Work in Progress 203
From RFID to IoT, 205
Defining Things, 207
IoT and the ITU, 209
Accelerating Standards Development of IoT, 214
M2M Consortia Not Far Behind, 217
Multi-Mode Wireless Sensors, 219
Big Numbers, Big Dreams, 221
Operators See Opportunity in M2M, 223
In the Chips, 227
Connected Car Standards, 229
Regulatory Issues, 231
Hack My Fridge?, 232
Politics, But Not As Usual, 233
Epilogue 235
International Standards Development Organizations Defined 253
Index 267