Modernism: A Cultural History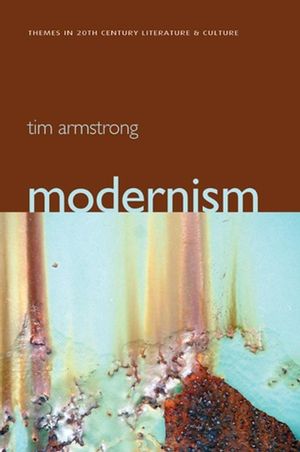 Modernism: A Cultural History
ISBN: 978-0-745-62982-7
Jun 2005, Polity
216 pages
Description
The last 20 years has seen an explosion of work on literary modernism and its cultural and historical contexts. In this innovative study aimed at a general audience, Tim Armstrong seeks to define modernism not only by its aesthetics and literary genres but also by its links with broader cultural areas in which the 'modern' is implicated and debated, and which inform its representational modes.

Modernism: A Cultural History explores modernism's struggle with a split temporality in which the old and the emerging new struggle, and in which, with the horror of the Great War, notions of a traumatic or 'frozen' time emerge. It considers such topics as modernism, market culture and obscurity; the culture of science and technology; politics, economics, eugenics, and sexology; primitivism and race; cinema and sound recording; gender and modernism; and the study of consciousness and the senses. It portrays modernism less as a movement in revolt from the modern world than as attempting to engage with that world: the cry of 'reform!' which characterizes much of post-enlightenment thought is used to describe modernist writers' engagement with politics or bodies as well as with inherited style. In this wide-ranging study, a parade of writers – from the canonical like Pound, Eliot and Woolf to less well-known figures like Mary Butts, Muriel Rukeyser and Sterling Brown – are considered, and literary movements like Imagism, Surrealism and the Harlem Renaissance are drawn into the debate.

Students and scholars alike, of Modernism and Twentieth Century Literature, will find the breadth, clarity and fresh approach of this text invaluable.
Preface.
1 Modernity, Modernism and Time.
2 Mapping Modernism.
3 Modernism, Mass Culture and the Market.
4 Reform! Bodies, Selves, Politics, Aesthetics.
5 The Self and the Senses.
6 The Vibrating Universe: Science, Spiritualism, Technology.
7 Modernism's Others: Race and Empire.
References and Further Reading.
Index
"In seven pithy chapters Amrstrong manages to write illuminatingly on issues as various as history, time, psychoanalysis, trauma, war, nationality, economics, politics, gender, canonicity, mass culture, advertising, social reform, sexology, the occult and spiritualism, eugenics, subjectivity, technology (especially photography, cinema, and radio), race, and imperialism."
-- Andrzej Gasiorek and Peter Boxall, The Year's Work in Critical and Cultural Theory

"Typically wide-ranging and consummately synthesized, this is the most stimulating, illuminating and pacey account of modernist culture I have read. Armstrong is one of the foremost authorities in his field and his book is certain to become a critical touchstone for students and experts alike."

-- David Bradshaw, Oxford University

"Tim Amstrong's Modernism: A Cultural History is a comprehensive and yet original introduction to the culture of modernism, a team Armstrong defines far more widely than previous writers. This book covers a wider range of non-literary topics than any other introduction to modernism, taking in mass culture, psychology, the sciences, technology, race and empire, among many others. But it also includes well-informed and persuasive discussions of a host of literary figures usually ignored in histories of the modern movement. In its sheer inclusiveness, Modernism: A Cultural History expands and alters our notion of what the term 'modernism' can mean."

-- Professor Michael North, UCLA


The first volume in a new Polity literary studies series, 'Themes in 20th Century Literature and Culture'.

Combines a clear argument for those with no prior knowledge or experience of Modernism with a subtle argument that will appeal to higher level undergraduates and scholars.

This will be the widest ranging book on the market, yet it is also compact and concise.

Uses a thematic, cultural history approach, which is not only at the cutting edge of literary studies, but also provides much welcomed crucial background information to texts.