Modified Atmospheric Processing and Packaging of Fish: Filtered Smokes, Carbon Monoxide, and Reduced Oxygen Packaging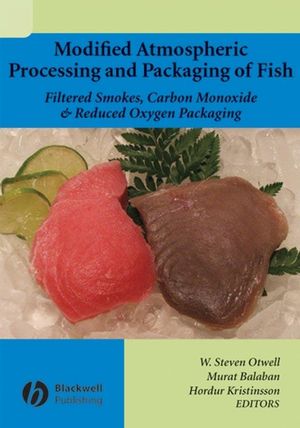 Modified Atmospheric Processing and Packaging of Fish: Filtered Smokes, Carbon Monoxide, and Reduced Oxygen Packaging
ISBN: 978-0-813-80768-3 July 2006 Wiley-Blackwell 243 Pages
Description
In Modified Atmospheric Processing and Packaging of Fish: Filtered Smokes, Carbon Monoxide, and Reduced Oxygen Packaging, experts from industry, academia, and agencies discuss the technology, commercial practices, and pertinent regulations of these fish processing applications, providing the most current and complete information on the topics available anywhere. Coverage of major seafood technology applications includes discussion of practices that are new, controversial, and rapidly expanding in production and markets throughout the world. Methods of application, shelf life, color enhancement, technical aspects, product quality, regulatory issues, microbial consequences, food safety concerns, and product assessments are fully addressed.


Modified Atmospheric Processing and Packaging of Fish is the benchmark resource for the practice, science, and regulation of the most popular processing and packaging methods for fresh and frozen seafood worldwide.
Contributors.
Preface.
Acknowledgments.
PART I. USE OF CARBON MONOXIDE AND FILTERED SMOKES IN FISH PROCESSING.
1. Use of Filtered Smokes and carbon Monoxide in Fish Processing (W. Steven Otwell).
2. Commercial Aspects of Filtered Wood Smoke Technology Compared to carbon Monoxide Gassing of Seafood Products (Blane E. Olson).
3. The Influence of Carbon Monoxide and Filtered Wood Smoke on Fish Muscle Color (Hordur G. Kristinsson, Murate O. Balaban and W. Steven Otwell).
4. Human Absorption of carbon Monoxide with Consumption of CO-Exposed Tuna (Mathew P. Davenport, Paul W. Davenport, Hordur G. Kristinsson and Steven Otwell).
Color Plates.
5. Microbial and Quality Consequences of Aquatic Foods Treated with Carbon Monoxide or Filtered Wood Smoke (Hordur G. Kristinsson, Murat O. Balaban and W. Steven Otwell).
6. Use of CO for Red meats: Current Research and recent Regulatory Approvals (Joseph G. Sebranek and Terry A. Houser).
7. Prospects for Utilization of carbon Monoxide in the Muscle Food Industry (Oddvin Sørbeim).
8. Tasteless Smoke Sources, Specifications, and Controls (Bill Kowalski).
9. Color Enhancement and Potential Fraud in Suing CO (Murat O. Balaban, Hordur G. Kristinsson and bruce Welt).
PART II. USE OF MODIFIED AND CONTROLLED ATMOSPHERIC PACKAGING.
10. Use of Modified Atmosphere Packaging to Extend the Shelf Life of Fresh Fish: A Critical Look from a Historical Perspective (Joe M. Regenstein).
11. Hazards Associated with Clostridium Botulinum in Modified Atmosphere Packaged Fresh Fish and Fishery Products (Guy E. Skinner and N. Rukma Reddy).
12. Botulism from Fishery Products: History and Control (John W. Austin and James P. Smith).
13. Verification for Use of TTI Controls for Seafood (W. Steven Otwell).
14. Use of TTI in Monitoring Temperature Exposure During Food Transport, Catering, and Packaging (Peter Rönnow).
Index.
"The information is presented in very readable form. This is a useful book for both industry and academic researchers interested in new methods for preservation."
Inform Magazine


Benchmark resource for the technology, commercial practices, and pertinent regulations of fish processing and packaging applications

Vital information for seafood suppliers, processors, and regulators worldwide

Covers practices that are new, controversial, and rapidly expanding in production

Internationally recognized editors and contributors