Modified Nucleosides: in Biochemistry, Biotechnology and Medicine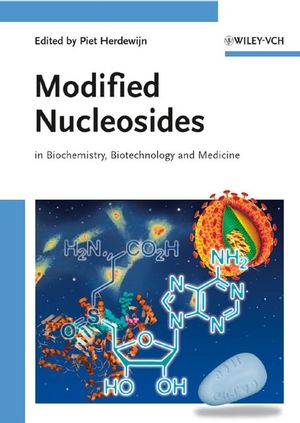 Modified Nucleosides: in Biochemistry, Biotechnology and Medicine
ISBN: 978-3-527-62312-9 September 2008 684 Pages
Description
Edited by one of the main driving forces behind the field's momentous rise in recent years, this one-stop reference is the first comprehensive resource to integrate recent advances.
The first part addresses biochemical aspects and applications, the second and third parts are devoted to compounds with therapeutic potential, with the third part focusing on newly introduced anticancer nucleoside drugs.
Essential reading for every scientist working in this area.

BIOCHEMISTRY AND BIOPHYSICS
Investigations on Fluorine-labeled Ribonucleic Acids by 19F-NMR Spectroscopy
8-Oxo-7,8-dihydro-2'-deoxyguanosine, a major DNA oxidation product
Modified DNA Bases: Probing Base Pair Recognition by Polymerases
2'-Deoxyribose Modified Nucleoside Triphosphates and their Recognition by DNA Polymerases
Pyrimidine Dimers: UV-induced DNA Damage
Locked Nucleic Acids: Properties, Applications and Perspectives
Studies on the synthesis and properties of oligonucleotides incorporating modified nucleobases capable for the formation of Watson and Crick type base pairs
The Properties of 4'-Thionucleosides
S-Adenosyl-L-methionine and related compounds
BIOTECHNOLOGY
5-Subsituted nucleosides in biochemistry and biotechnology
Universal base analogues and their applications to biotechnology
MEDICINAL CHEMISTRY
The Properties of Locked Methanocarba Nucleosides in Biochemistry, Biotechnology and Medicinal Chemistry
Synthesis, chemical properties and biological activities of cyclic bis(3'-5')diguanylic acid (c-di-GMP) and its analogues
Siderophore Biosynthesis Inhibitors
Synthesis and Biological Activity of Selected Carbocyclic Nucleosides
4'-C-Ethynyl-2'-deoxynucleosides
Modified nucleosides as Selective Modulators of Adenosine Receptors for Therapeutic Use
The Design of Forodesine HCl and Other Purine Nucleoside Phosphorylase Inhibitors
Formycin and Analogues: Purine Nucleoside Phosphorylase Inhibitors and their Potential Application in Immunosuppression and cancer
1-(3-C-Ethynyl-beta-D-ribo-pentofuranosyl)cytosine (ECyd)
Syntheses and Biological Activity of Neplanocin and Analogues
Clitocine and Its Analogs
ANTITUMORALS AND ANTIVIRALS
Capecitabine Preclinical Studies: From Discovery to Translational Research
Tenofovir and Adefovir as Antiviral Agents
Clofarabine: Design to Approval

"The overall quality of the book is high and it will be an important resource to the modified nucleoside community. The book contains a number of excellent individual chapters that offer a new and interesting perspective on the field … I believe that this book will be an excellent resource for synthesis chemists looking for summaries of existing strategies to generate a wide range of modified nucleosides. Along that line, the more clinically based chapters provide good summaries of the biological activities of the modified nucleotides. There is a nice balance of older and newer literature that should be of use to established as well as novice researchers, and most of the chapters are well referenced and up-to-date. I would certainly recommend this book to anyone interested in the bioorganic and medicinal chemistry of modified nucleosides and nucleic acids." (
Journal of the American Chemical Society
, March 25, 2009)
"Herdewijn, with the help of the contributing authors, has assembled a fine collection of well-written and well-edited reviews. This book will be indispensable to students and researchers." (ChemBioChem, January 2009)