Molecular Gastronomy: Scientific Cuisine Demystified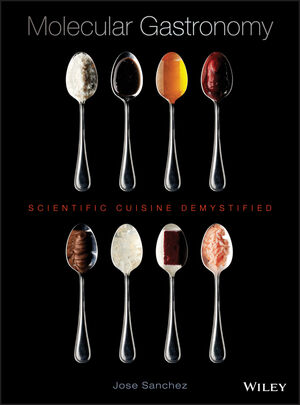 Molecular Gastronomy: Scientific Cuisine Demystified
ISBN: 978-1-118-80614-2
Mar 2015
320 pages
Description
Molecular Gastronomy: Scientific Cuisine Demystified aims to clarify and explain the fascinating world of molecular gastronomy. It offers the reader crucial knowledge of key ingredients and provides fundamental step-by-step techniques for application. It provides a foundation for experimenting with and, most importantly, understanding new and exciting ingredients and cooking techniques.
About the Author
Preface
Acknowledgments
Chapter 1: Modern Cooking Evolution and Its Pioneers and Practitioners
Chapter 2: Sanitation and Safety
Chapter 3: Equipment and Tool Identification
Chapter 4: Introduction to Hydrocolloids: New Frontier
Chapter 5: Food Hydrocolloids: Thickeners, Gelling Agents Emulsifiers, and Stabilizers
Chapter 6: Sweeteners, Antioxidants, and Others
Chapter 7: Overview of Techniques
Chapter 8: Small Treats, Hot and Cold
Chapter 9: Surprises
Chapter 10 : Composed Dishes
Chapter 11 : Sweets
Appendix
Weight Conversion Chart
Measurement Conversion of Commonly Used Ingredients
Length Conversion Chart
Temperature Chart
Bibliography and Further Reading
Resources
Index
Start At Any level: Beginners and professionals both will find relevant information that will fit personal need with ease of applicability.
Recipes, Photos, and Demonstrations: recipes are dramatically illustrated and thoroughly explained. The book highlights food hydrocolloids' potential by demonstrating the ability to recognize their basic applications, while also laying the groundwork for other infinite possibilities.
Provides Learning Toolsfor Each Reader:
Instructors will find the theoretical and applicable components of the book to be a great curricula source for lectures on molecular gastronomy and modern cuisine.
Current and Future Chefs will appreciate the simple approach taken to explain a very detailed subject.
Serious Home Chefs can use this book to eliminate the mysticism and fear of these common food hydrocolloids.