Molecular Quantum Electrodynamics: Long-Range Intermolecular Interactions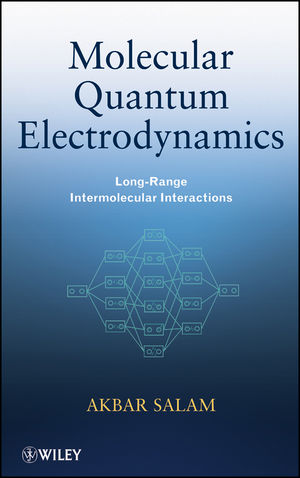 Molecular Quantum Electrodynamics: Long-Range Intermolecular Interactions
ISBN: 978-0-470-53546-2
Aug 2014
416 pages
Description
The theory of molecular quantum electrodynamics and its application to a number of intermolecular interactions
Considerable advances have taken place in quantum electrodynamical theory of intermolecular forces. Virtually impacting all areas of science, molecular quantum electrodynamics (MQED) has been successfully applied to numerous radiation-molecule and molecule-molecule processes. Molecular Quantum Electrodynamics delves in depth into the MQED theory of long-range intermolecular forces, offering a variety of physical viewpoints and calculational techniques.
The text provides an introduction and background on:
Field theoretic treatments, including the second quantized Maxwell field formulation

Intermolecular potential and a semi-classical perturbation theory treatment of short- and long-range forces

Retarded dispersion interactions including discriminatory forces

Intermolecular interactions in a radiation field

Energy shift and transfer rate in relation to specific two- and many-body forces
Molecular Quantum Electrodynamics provides an essential resource for chemists, physicists, biophysicists, materials scientists, and nanochemists interested in exploring the theory and application of MQED.
PREFACE.
1 MOLECULAR QUANTUM ELECTRODYNAMICS: BASIC THEORY.
1.1 Background.
1.2 Quantum Description of Matter.
1.3 Electrodynamics and Maxwell Equations.
1.4 Quantization of the Free Electromagnetic Field.
1.5 Interacting Particle–Radiation Field System.
1.6 Multipolar Lagrangian.
1.7 Multipolar Hamiltonian.
1.8 Canonical Transformation.
1.9 Perturbation Theory Solution.
1.10 State Sequence Diagrams.
2 MOLECULAR QUANTUM ELECTRODYNAMICS: FIELD THEORETIC TREATMENT.
2.1 Introduction.
2.2 Nonrelativistic Quantum Field Theory.
2.3 Quantum Canonical Transformation.
2.4 Multipolar Maxwell Fields.
2.5 Minimal-Coupling Maxwell Fields.
2.6 Multipolar Maxwell Fields in the Vicinity of a Source.
2.7 Higher Multipole Moment Maxwell Fields.
2.8 Maxwell Fields of a Diamagnetic Source.
2.9 Electromagnetic Energy Density.
2.10 Poynting's Theorem and Poynting Vector.
3 INTERMOLECULAR FORCES.
3.1 Concept of Intermolecular Potential.
3.2 Short-Range Forces.
3.3 Long-Range Forces.
3.4 Electrostatic Interaction.
3.5 Induction Forces.
3.6 Dispersion Forces.
4 RESONANT TRANSFER OF ENERGY.
4.1 Introduction.
4.2 Diagrammatic Perturbation Theory.
4.3 State Sequence Diagram Representation.
4.4 Energy Transfer Between Chiral Systems.
4.5 Emitter–Absorber Model.
4.6 Response Theory Calculation.
4.7 Time-Dependent Energy Transfer and Causality.
4.8 Proof of Causality of Energy Transfer to all Orders in Perturbation Theory.
5 RETARDED DISPERSION FORCES.
5.1 Introduction.
5.2 Casimir–Polder Potential: Perturbation Theory.
5.3 Near-Zone Potential: London Dispersion Energy.
5.4 Far-Zone Dispersion Potential.
5.5 State Sequence Diagrams for Dispersion Force.
5.6 Dispersion Interaction Between One Ground and One Excited Molecule: Perturbation Theory.
5.7 Response Theory Calculation of Dispersion Forces.

5.8 Dispersion Potential via the Method of Induced Multipole Moments.
5.9 Discriminatory Dispersion Interactions.
5.10 Interactions Involving Magnetically Susceptible Molecules.
5.11 Measurements of Casimir Effect.
6 MANY-BODY FORCES.
6.1 Introduction.
6.2 Axilrod-Teller-Muto Dispersion Energy Shift.
6.3 Retarded Triple-Dipole Dispersion Potential: Perturbation Theory.
6.4 Triple-Dipole Dispersion Energy Shift via Craig–Power Hamiltonian.
6.5 Triple-Dipole Dispersion Potential via Correlations of the Dressed Vacuum Field.
6.6 N-Body Dispersion Potential.
6.7 Four-Body Retarded Dispersion Potential.
6.8 Three-Body Dispersion Interaction Involving One Excited Molecule.
6.9 Mediation of Resonance Energy Transfer by a Third Body.
7 INTERMOLECULAR INTERACTIONS IN A RADIATION FIELD.
7.1 Introduction.
7.2 Radiation-Induced Dispersion Force: Perturbation Theory.
7.3 Dynamic Mechanism.
7.4 Static Mechanism.
7.5 Molecular and Pair Orientational Averaging.

7.6 Polarization Analysis.
7.7 Collapsed Graphs and Effective Interaction Hamiltonian.
7.8 Radiation-Induced Intermolecular Interaction via the Method of Induced Moments.
7.9 Discriminatory Intermolecular Interaction in a Radiation Field: Perturbation Theory.
7.10 Radiation-Induced Chiral Discrimination: Induced Moment Method.
7.11 Freely Tumbling Chiral Pair in the Presence of Circularly Polarized Light.
7.12 Radiation-Induced Intermolecular Energy Shifts Involving Magnetic Dipole and Electric Quadrupole Polarizable Molecules.
7.13 Higher Order Radiation-Induced Discriminatory Intermolecular Interaction.
APPENDIX A Higher Multipole-Dependent Second-Order Maxwell Field Operators.
APPENDIX B Rotational Averaging of Cartesian Tensors.
REFERENCES.
INDEX.