Mollison's Blood Transfusion in Clinical Medicine, 11th Edition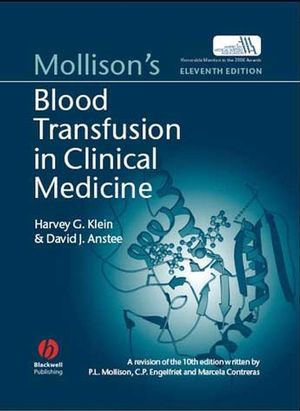 Mollison's Blood Transfusion in Clinical Medicine, 11th Edition
ISBN: 978-0-470-98685-1
Apr 2008, Wiley-Blackwell
912 pages
Description
"Both authors have dealt in an authoritative way with the still rapidly expanding specialty and the eleventh edition of the book will be of the greatest value to all who are interested in the scientific and practical aspects of blood transfusion in clinical medicine."
From the Foreword by Professor P.L. Mollison


Highly respected, long-established book that has become the "bible" in transfusion medicine


Why Buy This Book?



Provides a sound basis for understanding modern transfusion medicine

Definitive reference source for any clinician involved with patients requiring transfusion and for all staff working in transfusion services, immunohaematology laboratories and blood banks

Highly practical advice on management issues for the clinician

Completely revised and updated to reflect the rapid pace of change in transfusion medicine

Written by two of the world's leading experts in the field
Abbreviations.
Chapter 1: Blood donors and the withdrawal of blood.
Chapter 2: Transfusion of blood, blood components and plasma alternatives in oligaemia.
Chapter 3: Immunology of red cells.
Chapter 4: ABO, Lewis, and P groups and Ii antigens.
Chapter 5: The Rh blood group system (and LW).
Chapter 6: Other red cell antigens.
Chapter 7: Red cell antibodies against self antigens, bound antigens and induced antigens.
Chapter 8:Blood grouping techniques.
Chapter 9: The transfusion of red cells.
Chapter 10: Red cell incompatibility in vivo.
Chapter 11: Haemolytic transfusion reactions.
Chapter 12: Haemolytic disease of the fetus and the newborn.
Chapter 13: Immunology of leucocytes, platelets and plasma components.
Chapter 14: The transfusion of platelets, leucocytes, haemopoietic cells and plasma components.
Chapter 15: Some unfavourable effects of transfusion.
Chapter 16: Infectious agents transmitted by transfusion.
Chapter 17: Haemopheresis.
Chapter 18: Alternatives to blood transfusion.
Appendices.
Index
"It is no small task to revise a classic. Much of the beauty and depth of the original text has been maintained with appropriate reverence, with new chapters and topics added to maintain the currency and perpetuate its value for all readers. We applaud the accomplishment and recommend the book to all scholars of blood transfusion, whether their interests are clinical, serologic, or a combination of both."
Transfusion
"...the gold standard of this field and of the greatest value for all physicians working in transfusion medicine. Furthermore, it is also of interest for all non-specialist interested in the various aspects of transfusion medicine. It should be on hand in all blood centres, all departments practicing transfusion medicine and all blood grouping laboratories."
Vox Sanguinis

"Overall, this latest edition of "Mollison" is a wonderful textbook. This compendium contains a wealth of information, both published and unpublished, in rich detail. The 11th edition more than adequately replaces its predecessors, and should be kept close at hand for both students and experienced practitioners of transfusion medicine."
Transfusion Medicine Reviews

"But 'Mollison', as the book is affectionately known even without any new contribution from the man himself, continues to be the 'Gold Standard' by which other texts will be judged."
Medical Laboratory World

"From its outset, this publication has epitomised excellence in both academic rigour and attention to detail. It continues to do so."
British Journal of Biomedical Science

ON THE PREVIOUS EDITION;

"No hospital transfusion laboratory should be without its "Mollison" and most haematologists should possess their own copy. It is beautifully produced, has great clarity and is very readable, and as a source of reference it is hard to beat. Highly recommended."
British Journal of Hospital Medicine
"It has long been recognised as being the most definitive comprehensive book in the transfusion laboratory, as well as for the clinician ... this latest edition of "Mollison" will be an essential reference source for all transfusion scientists, and the definitive textbook for all students of the subject. Possession of one - or preferably more - copies will be virtually mandatory for all transfusion laboratories"
Medical Laboratory Sciences
"The text is well written and worth reading for all physicians who may come into contact with blood products or require the use of blood products, ranging from the immunologist using intravenous gammaglobulin to the haematologist, nephrologist, oncologist, or any other active clinician involved with transfusion of blood products".
New Jersey Medicine
"No person and no institution concerned with blood transfusion in any of its wide aspects can afford to be without this book"
Clinical and Labatoratory Haematology

No other word comes to mind upon reviewing the content of this text other than "classic". This text has long been the gold standard upon which other textbooks in Transfusion Medicine are judged. Although there are many other authoritative textbooks in Transfusion Medicine, this one remains unique in several respects:



The historical continuity of this text and it's principal editor which date back to the first edition in 1951 offer a perspective (often anecdotal) not found elsewhere.

The continuity of the content and uniform style reflect the limited number of authors (in this case 3) compared to other multi-authored (or mega-authored) texts.

The references are listed only once in the back of the book in alphabetical order. This is as opposed to the more common practice of listing references at the end of each chapter in the order in which they appear. This is of course a mixed blessing, but it frequently allows one to quickly identify other significant contributions by the same group.
As in previous editions, the content is extensive, current and authoritative, but not so encyclopedic as to be somnolent. For anyone with a serious interest in Transfusion Medicine, the purchase of this textbook is a justifiable necessity.

Reviewed for Bloodline by:
Mark E. Brecher
Director, Transfusion Medicine
Stem Cell Laboratory
University of North Carolina at Chapel Hill
Brecher@MED.UNC.EDU

"This book deals with an area of medicine that has long been accepted by anaesthetists as routine. The administration of blood and blood products to patients, actively bleeding as a result of trauma or surgery, is as elementary to us as giving oxygen. It is a treatment that few of us have ever questioned. As anaesthetists, we are currently responsible for the administration or prescription of almost half the blood used in our hospitals. It is important that we have a working knowledge of the developing science behind transfusion medicine. Although I have special interest in blood transfusion, I admit that I have learnt more, and found more to praise, from this book than I have found at fault.

The text is well written and although there may not be enough graphs and pictures for anaesthetic tastes, where they are provided they are clear and of good quality. Mollison is used as a bible by most MLSOs in blood banks throughout the country. It is therefore a very useful exercise to at least browse through the book to understand the blood bank MLSO's role in questioning our often reasonable but some times unreasonable demands.

In summary, I would recommend that most anaesthetic departments should have access to this most useful summary of blood transfusion practices."
Anaesthesia

".........continues to reinforce its deserved place as a standard reference work in the field of blood banking. The encyclopedic detail and extensive references provide current information in most areas of blood banking."
Annals of Internal Medicine

"This book in its many previous editions has withstood the test of time as a respected reference in the field, and the new edition is no exception. Libraries and bookstores will wish to make this new edition available to its patrons, and individuals working in the area will likely want to have a copy of the new edition available."
Doody.com
Highly respected, long-established book that has become the "bible" in transfusion medicine


Provides a sound basis for understanding modern transfusion medicine

Definitive reference source for any clinician involved with patients requiring multiple transfusions and for all staff working in transfusion laboratories and blood banks

Highly practical advice on management issues for the clinician

Completely revised and updated to reflect the rapid pace of change in
transfusion medicine

Written by two of the worlds leading experts in the field