Mom Blogging For Dummies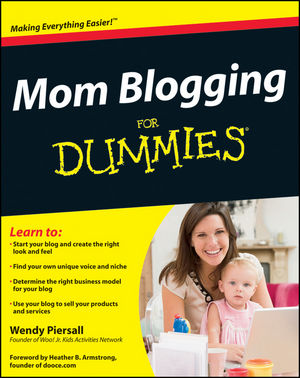 Mom Blogging For Dummies
ISBN: 978-1-118-12826-8
Jun 2011
360 pages
Description
Ready to start your Mom blog or enhance your existing one? This book is for you!
The population of mom bloggers is growing at a stunning pace and they boast an audience of more than 23 million women reading, posting, or commenting on blogs every week. This fun and friendly guide targets moms who are looking to become a savvier blogger, build a personal brand, earn free products to review or give away, or make some extra cash through ad revenue. Named by Nielsen as one of the most influential moms online, author Wendy Piersall helps you determine the right business model for your blog and then create a professional, in-demand personal brand.
Serves as a road map for the growing population of moms who are interested in creating a blog or enhancing an existing blog
Explains how to define a business model, understand your reader demographics, and choose the right look and feel for your blog
Addresses delicate issues such as dealing with privacy and family members who don't want to be featured on your blog
Walks you through using social media to extend your personal brand, building traffic with SEO and blog networks, and having a plan and policies in place when big brands and media come calling
Offers a very unintimidating format as well as the usual fun and friendly For Dummies approach
This beginner guide presents baby steps for breaking into the often-daunting mom blogging community, with practical advice on how to join and become an accepted member of this exciting world.
Foreword.
Introduction.
Part I: Discovering the Fun and Advantages of Mom Blogging.
Chapter 1: Starting a Mom Blog.
Chapter 2: Choosing a Blogging Platform.
Chapter 3: Finding Your Voice and Niche.
Part II: Building Your Blogging Empire.
Chapter 4: Determining the Best Business Model for Your Blog.
Chapter 5: Measuring Your Success.
Chapter 6: Attracting Readers to Your Blog.
Chapter 7: Positioning Yourself as an Expert.
Chapter 8: Selling Your Own Products and Services.
Part III: Working with Advertisers and Brands.
Chapter 9: Mastering Blogging Ethics.
Chapter 10: Creating Partnerships with Brand Representatives.
Chapter 11: Preparing Your Blog for Advertising.
Chapter 12: Finding and Joining an Ad Network.
Chapter 13: Selling Your Own Advertising.
Chapter 14: The Basics of Affi liate Marketing.
Part IV: Expanding Your Blogging Empire.
Chapter 15: Planning for the Future Growth of Your Blog.
Chapter 16: Exploring the Ways You Can Expand Your Reach.
Part V: The Part of Tens.
Chapter 17: Ten Blogging Mistakes to Avoid.
Chapter 18: Ten Successful Mom Bloggers.
Index.