Momentum: Igniting Social Change in the Connected Age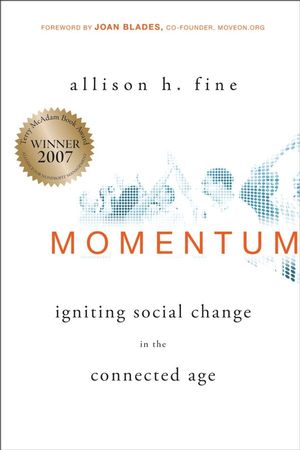 Momentum: Igniting Social Change in the Connected Age
ISBN: 978-0-787-98821-0
Sep 2006, Jossey-Bass
240 pages
Description
A new and empowering way of looking at and organizing social change! How can we move from serving soup until our elbows ache to solving chronic social ills like hunger or homelessness?  How can we break the disastrous cycle of low expectations that leads to chronic social failures?

The answers to these questions lie within Momentum, a fresh, zestful way of thinking about and organizing social change work. Today's digital tools—including but not limited to e-mail, the Web, cell phones, personal digital assistants (PDAs), even iPods—promote interactivity and connectedness.  But as Momentum shows, these new social media tools are important not for their wizardry but because they connect us to one another in inexpensive, accessible, and massively scalable ways.
Foreword (
Joan Blades
).
Acknowledgments.
Preface: The Promise of Connected Activism.
Introduction.
Part I: Connectedness in Action.
1. Celebrating Self-Determination: Developing a Mind-Set of Powerfulness.
2. Becoming a Connected Activist: Enhancing the Effectiveness of Social Media.
3. Beyond Bowling Alone: Leveraging Social Networks for Social Change.
4. All Aboard! Embracing the Leveling Effect of Social Media.
5. Embracing Authentic Conversations: Overcoming the Listening Deficit.
6. Powering the Edges: Shifting Power from the Inside Out.
7. Encouraging Individual Activism: Working Together to Optimize Your Efforts.
Part II: The Future of Social Change.
8. Peeking into the Digital Future: Balancing the Opportunities Ahead.
9. My Diet Starts Next Tuesday: Embracing a Recipe for Success Now.
10. Are We There Yet? Measuring Progress in New Ways.
11. The Future of Funding: Rethinking Philanthropy and Fundraising Using Social Media.
Conclusion: Moving Forward as a Connected Activist.
Resource A: Free Schuylkill River Uses CitizenSpeak to Expand Its Coalition (Jo Lee).
Resource B: The Cluetrain Manifesto (Christopher Locke, Doc Searls, David Weinberger, Rick Levine).
Notes.
The Author.
Index.
"...a fresh, zestful way of thinking about and organizing social change work."
(PublicNet.co.uk, October 9, 2008)
Thoughtful and thought provoking, which addresses technology strategies, relationships, and organizational change within the nonprofit sector. Far from a technical manual, it raises compelling issues that deserve consideration by all nonprofit organizations. (Nonprofit and Voluntary Sector Quarterly, 05/01/2008)
Fine (founder, Innovation Network, Inc.), a New York social entrepreneur, writes on the way new social media-the Internet, cell phones, digital tools-allow activists to create new groupings of self-directed and self-responsible progressives. She believes that in this new connected era of the Internet, activist networks trump hierarchy, and she touches on how social media have already facilitated progressive actions. She points out the need for activists and progressive organizations to harness the new technologies while genuinely listening to those engaged in the new social media. She also ponders the future of activism in a connected age. This work contains some practical-and even inspiring-advice but is really a meditation on the interaction between technology and traditional activism. Most useful in academic and large public libraries. (Library Journal, November 15, 2006)
Fine outlines strategies for "connected activism" in this idealistic, lucidly written account about using the Internet to build up networks among activists who can pool information and other resources to help create lasting solutions that address the roots of social problems. Citing organizations such as the advocacy group MoveOn.org and MeetUp.com, which promotes off-line gatherings like those that propelled the Dean for President campaign, Fine emphasizes a mind-set of self-determination among citizens and two-way rather than top-down communication from organizations. She takes a cue from the 1999 "Cluetrain Manifesto," aimed at corporations that were out of touch with consumers, translating its promotion of digital communication to the activist sphere. Some of her rhetoric seems hyperbolic, as when she suggests that online activism provides a neutral playing field in which women can advance their causes without getting dismissed because of their gender, and she pushes hard on the readiness of "plugged-in" Generation Y to change the world. On the whole, though, she provides activists with effective guidelines for streamlining the pursuit of social change through instant messaging, blogs, chat rooms and Blackberries. (PublishersWeekly.com, October 23, 2006)