Momfulness: Mothering with Mindfulness, Compassion, and Grace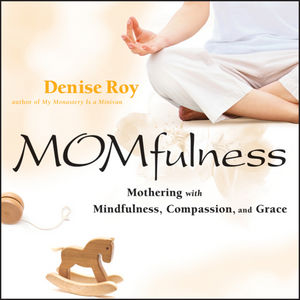 Momfulness: Mothering with Mindfulness, Compassion, and Grace
ISBN: 978-1-118-04095-9 December 2010 Jossey-Bass 256 Pages
Description
Denise Roy combines the hard-won wisdom of a parent with the insights of meditation to create a spiritual practice that goes to the heart of everyday life: mothering with mindfulness. Through anecdotes, reflections, and specific practices, this book invites mothers to wake up and embrace their lives, discovering that they are always standing on holy ground.
Table of contents
Introduction. Momfulness. Developing a Practice. Presence. Breathing Meditation. I See Me in Your Eyes. Rolling Hippo Meditation. How a Mom Prays. The Alone Hat. Porch Swing. Attention. Plan B. Autopilot. The River. Mouth Yoga. The Ideal vs. the Real. Clearing Clutter. Compassion. Late-for-School Practice. Pier Pressure. Walking the Night Hallways. When Someone Deeply Listens to You. No Good Very Bad Day. Mobilize the Mothering Instinct. Embodiment. Hugging Meditation. Body Blessings. Seven Nights in a Row. Generations of Bodies. Saved by Wonder. Close to Things. The Sacred in All Things. Where Does the Wind Come From? Lobster Tale. Framing the Day. Nurturing Family Spirit. Grace. Family Circle. Community. Sacred Circles. Our Many Mothers. The Holy Family Commutes. Are All the Children In? The Mother Is Standing. What Do Trees Have to Do with Peace? A Final Word. Suggested
Readings
. Acknowledgments. The Author.