Money For Content and Your Clicks For Free: Turning Web Sites, Blogs, and Podcasts Into Cash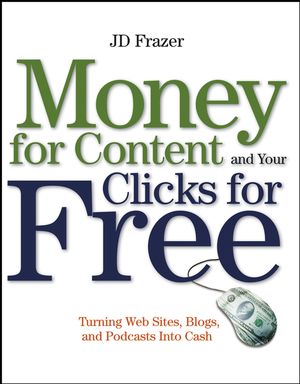 Money For Content and Your Clicks For Free: Turning Web Sites, Blogs, and Podcasts Into Cash
ISBN: 978-0-471-78531-6
Feb 2006
300 pages
Product not available for purchase
Description
Want to make money from your creativity? Here's how

If you're a blogger or podcaster, an artist or musician, or someone who creates any other type of online content and dream of earning income from your creative efforts, you have endless options on the Internet. But to seize them, you must become part businessperson--a creative entrepreneur. If that thought intimidates you, you're not alone.

JD Frazer has been there, and he shares with you everything you must know about syndication, advertising, branding, merchandising, copyright protection, ethical considerations, how to attract consumers, and more. If you want to earn a living from what you create, here's what you need to do:
* Make wise decisions that protect your intellectual property and your interests
* Approach the subject of paying for content without alienating your audience
* Understand the realities of self-syndication
* Weigh the advantages and disadvantages of membership features on your Web site
* Learn how branding and merchandising apply to your art
* Be prepared for fame as well as anonymity, and the hazards of both
* Recognize the ethical balance that exists between creator and consumer
* Explore online resources that assist the creative entrepreneur


Visit our Web site at www.wiley.com/compbooks
Preface.
Acknowledgments.
Introduction.
Chapter 1: The Business of Creating Content.
The Good, the Bad, and the Fake.
What to Look Forward to.
What Not to Look Forward to.
When Was the First "Content Provider" Born?
The Ancients Were Sure Into It.
The Middle Ages and Renaissance Aren't to Be Outdone.
Ideas to Industry.
Syndicates: Businesses in Villains' Clothing.
Enter the Web.
Chapter 2: The Advertising Game.
The Players.
The Client.
The Advertising Agency.
The Ad Network and the Sales Force.
The Media Channel.
Demographics.
Conducting a Survey.
What a Survey Is Not.
Questions, Answers, and Legerdemain.
I Have the Data. . . Now What?
The Media Kit.
Print Advertising Versus Web Advertising.
Creating Web (Banner) Ads.
Web Advertising Formats.
Static Web Advertising.
Rich Media Web Advertising.
Pop-Anything Advertising.
Interstitial Advertising.
Text Ads.
E-mail Advertising.
Podcast (Audio) Ads.
Serving Ads for Fun and Profit.
Ad Serving: Yours or Theirs?
Ad Serving Jargon:What the Heck Did They Just Ask Me?
Be Prepared to Say No.
Keeping the Client Happy.
Show Me the Money.
When the Ad Agency Becomes the Enemy.
Chapter 3: The Membership Game.
What Are They Really Buying?
Holding Out a Hat Marked "Donations".
What Should You Give Them?
Intangibles.
Tangibles.
The Sponsorship Drive.
The Question of Price Point.
Accepting Payment (or Keeping Your Hands Open).
Checks and Money Orders.
PayPal.
Credit Cards.
Maintaining Value.
Chapter 4: To Gate or Not to Gate.
Life in a Gated Community.
Gating Off Your Site.
Cash Poor and Intelligence Rich.
Chapter 5: Branding and Merchandising.
You Are Your Brand.
Leveraging Your Brand with Endorsements.
Your Art Promoting Your Art.
Jurassic Park Had it Right.
Traditional Merchandisers.
On-Demand Merchandisers.
Chapter 6: Online Communities and Online Consumers.
Consumer Culture Versus Community.
Communities: Realspace, Online, Distributed.
The Ivory Tower: A Nice Place to Visit, but Living There?
Shared Thoughts, Shared Experiences, Shared Reviews.
So That's What Mayors (Are Supposed to) Do.
Conduct Unbecoming, or "Everyone Behave!"
Loyal Communities = Happy Customers.
Chapter 7: The Ethics of Creation and Consumption.
Consumption Junction.
Discontent over Content.
Chapter 8: Protecting Your Creation.
The Siblings: Copyright and Trademark.
Copyright, Right?
Trademark, the Less (?) Popular Sibling.
Creative Commons—Ethical Protection.
The Four Online Content Consumers.
Thief.
Naïve.
Policeman.
Citizen.
Chapter 9: Fame and Your Audience.
What Is Fame Anyway?
The Upside of Fame.
The Downside of Fame.
Pride, Praise, and Sycophancy.
How to Handle Criticism.
Chapter 10: Ready, Fire, Aim!
The Content Provider's Business Checklist.
Establish Content.
Write a Privacy Policy.
Write a Forum Policy for Acceptable Use.
Write Copyright Terms.
Sign Up with an Ad Network.
Crank Up the Marketing.
Collect Demographic Information.
Build a Media Kit.
Contact a Third-Party Ad Sales Force or More Ad Networks.
Part-Time Fun to Full-Time Living.
Final Words.
Appendix A: References and Resources.
Index.