Monitoring, Measuring, and Managing Customer Service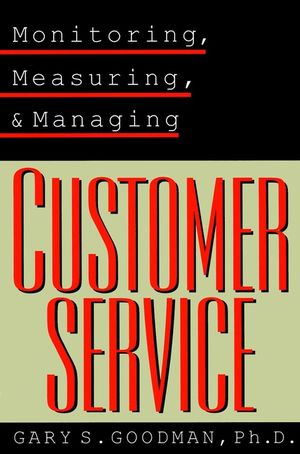 Monitoring, Measuring, and Managing Customer Service
ISBN: 978-0-787-95139-9
Apr 2000, Jossey-Bass
192 pages
Description
Excellent customer service does not come about by accident. It is a learnable set of behaviors that can be monitored, measured, and managed. Drawing from his highly successful seminars and training programs, Gary S. Goodman presents a surefire system for building a first-class customer service department. Goodman identifies the behaviors that constitute top-level service, examines the results that kind of service produces, and shows how to measure it in terms of daily customer satisfaction. He provides managers with specific guidelines for developing, sustaining, and rewarding high levels of service from their customer service reps--with emphasis on telephone contact, the primary link to customers for most companies.
HOW TO CONSISTENTLY PRODUCE GREAT CUSTOMER SERVICE.

Elements of Great Service.

The Customer Service Call Path: A Blueprint for Producing Peak Customer.

Satisfaction by Telephone.

THE ANATOMY OF SERVICE SUCCESS: IDENTIFYING THE EIGHTEEN COMMUNICATION FACTORS THAT PROMOTE TOP CUSTOMER SERVICE.

Excellent CSRs: They're Positive and Cheerful.

Gret Reps are Consistently Courteous.

Articulation Is Essential to Providing a Good Service Experience.

Watch Out For Speed Bumps.

How to Have Perfect Pitch.

If You Want to Get Someone's Attention, Just....

Calibrate Your Conversations.

Vocabulary: The Art of Using the Right Words.

Grammar Counts!

Electrify Customers with Your Energy.

Jack Be Nimble, Jack Be Quick.

Let's Deliver Accurate Information.

Appropriateness: Ramblin' Reps Should Be Roped In.

Be Organized: State Your Point, Give the Evidence, State Your Point Again (P.E.P.).

Effective Transistions Are a Characteristic of the Best Communicators.

Customers Want More Than Information -
They also Want Our Empathy and Supportivenss.

"We Understand the Importance of Good Listening".

Evoking the Right Responses.

MONITORING CUSTOMER SERVICE.

Five Reasons to Close Monitor CSR Performance.

How Current Monitoring Practices Fail.

Pluses and Minuses of Customer Surveys.

A Tried and True Monitoring Device: Managing by "Walking Around".

Should You Adopt an Explicit "Code of Behavior" for Your Work Group?

Should You Monitor and Enforce Dress Codes?

Try Using "Direct Pointing" to Help Your Reps.

If You're Going to Monitor, You Should Create an Objective Record.

Legal Issues in the Taping of Conversations.

Ultimately, What We're Really After is Self-Monitoring.

MEASURING CUSTOMER SERVICE REPRESENTATIVES.

How Some Reps Measured.

You'll Get What You Measure-One Way or Another.

Ten Criteria for Measuring Customer Service Calls.

Telephone Effectiveness Assessment Measures (TEAMeasures).

The TEAMeasures Scoring System.

The TEAMeasures Documents.

Telephone Effectiveness Assessment Measures (TEAMeasures) Call Scoring Sheet.

Telephone Effectiveness Assessment Measures (TEAMeasures) Definitions.

MEASURING AND MANAGING TEAM LEADERS, SUPERVISORS, AND CUSTOMER SERVICE MANAGERS.

SEAmeasures: An Overview.

Supervisor Effectiveness Assessment Measures (SEAmeasures) Definitions.

Effective Customer Service Management Practices.

RECRUITING, MOTIVATING, AND RETAINING QUALITY CUSTOMER SERVICE PEOPLE.

A Profile of Exceptional CSRs.

Recruiting Great Reps.

Motivating and Compensating CSRs.

Secrets to Retaining the Best Employees.

Rewarding Career Paths.

MAKING A CORPORATE COMMITMENT TO FIRST-CLASS CUSTOMER SERVICE.

What is a Corporate Commitment, Anyway?

Helping Specific Departments to Become More Effective Communicators.