Monitoring and Visualizing Membrane-Based Processes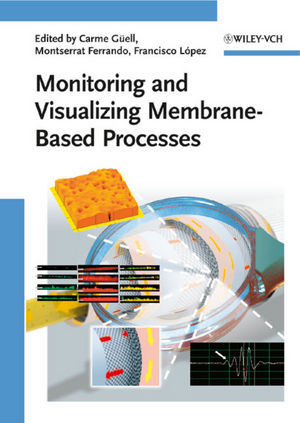 Monitoring and Visualizing Membrane-Based Processes
ISBN: 978-3-527-62271-9 April 2009 387 Pages
Description
This much-needed critical review of the main monitoring techniques conveys profound knowledge of their fundamentals, possibilities and limits, strengths and weaknesses when applied to membrane processes, clearly demonstrating which technique is most suitable for a given process. A practical approach is adopted throughout, providing case studies for the monitoring of selected membrane-based processes.
After an introductory section, the book goes on to look at optical and electronic microscopic techniques, followed by electrical, laser and acoustic techniques, and finishes off with process-oriented monitoring techniques.
For both researchers and professionals working in the industry.

INTRODUCTION: OPPORTUNITIES AND CHALLENGES OF REAL TIME MONITORING ON MEMBRANE PROCESSES
Introduction
Microscopic Techniques in Membrane Characterization
Electrical, Laser, Magnetic and Acoustic Techniques in Membrane or Membrane Process Characterization
Process Oriented Monitoring Techniques
Future Scope of Sensors in Membrane Process Characterization

PART I: Optical and Electronic Microscopic Techniques on Membrane Process Characterization

DIRECT VISUAL OBSERVATION OF MICROFILTRATION MEMBRANE FOULING AND CLEANING
Introduction
Particle Deposition
Particle Removal
MICROSCOPY TECHNIQUES FOR THE CHARACTERIZATION OF MEMBRANE MORPHOLOGY
Introduction
Membrane Characterization Morphology Parameters
Microscopy Techniques for Membrane Morphology Characterization
Case Studies
CONFOCAL SCANNING LASER MICROSCOPY: FUNDAMENTALS AND USES ON MEMBRANE FOULING CHARACTERIZATION AND OPPORTUNITIES FOR ONLINE MONITORING
Introduction
Fundamentals of Confocal Scanning Laser Microscopy
Applications of CSLM to Membranes and Membrane Processes
Evaluating Limits and Prospects of CSLM in the Characterization of Membranes and Membrane Processes
SCANNING PROBE MICROSCOPY TECHNIQUES IN THE INVESTIGATION OF HOMOGENEOUS AND HETEROGENEOUS DENSE MEMBRANES: THE CASE FOR GAS SEPARATION MEMBRANES
Introduction
Microscopic Techniques
Gas Separation Membranes
Case Studies
ATOMIC FORCE MICROSCOPY INVESTIGATIONS OF MEMBRANES AND MEMBRANE PROCESSES
Introduction
The Range of Possibilities
Correspondence Between Surface Pore Dimensions from AFM and MWCO
Imaging in Liquid and the Determination of Surface Electrical Properties
Effects of Surface Roughness on Interactions with Particles
"Visualization" of the Rejection of a Colloid by a Membrane Pore and Critical Flux
The Use of AFM in Membrane Development
CONFOCAL RAMAN MICROSCOPY FOR MEMBRANE CONTENT VISUALIZATION
Introduction
The Raman Effect
Raman Microspectrometry
Confocal Raman Microscopy
Specific Data Processing
Visualization Using Raman Spectroscopy
Membrane Systems Applications
IN SITU CHARACTERIZATION OF MEMBRANE FOULING AND CLEANING USING A MULTIPHOTON MICROSCOPE
Overview
Optical Techniques for Characterization of Membrane Fouling
Partial Review of Fouling and Cleaning
Materials and Methods
Imaging Cake Fouling
Imaging of Protein Fouling
In Situ Characterization of Cell-Protein Fouling

PART II: Electrical, Laser and Acoustic Techniques for Membrane Process Characterization

ELECTRICAL CHARACTERIZATION OF MEMBRANES
Introduction
Electrical Measurements
Experimental
Results of Electrical Measurements for Different Types of Membranes
X-RAY TOMOGRAPHY APPLICATION TO 3D CHARACTERIZATION OF MEMBRANES
Principles of X-Ray Tomography
Application of X-Ray Tomography in the Membrane Field
OPTICAL AND ACOUSTIC METHODS FOR IN SITU CHARACTERIZATION OF MEMBRANE FOULING
Introduction
Approach
In Situ Deposit Characterization with an Optical Method Using a Laser Sheet at Grazing Incidence
In Situ Deposit Characterization with an Acoustic Method

PART III: Process-Oriented Monitoring Techniques

MONITORING OF MEMBRANE PROCESS USING FLUORESCENCE TECHNIQUES: ADVANCES AND LIMITATION
Introduction: Why Use Natural Fluorescence as a Monitoring Technique?
Natural Fluorescence Techniques
Monitoring of Membrane Processes
MEMBRANE EMULSIFICATION PROCESSES AND CHARACTERIZATION METHODS
Introduction
Emulsification Technology
Membrane Emulsification Processes
TOWARDS FOULING MONITORING AND VISUALIZATION IN MEMBRANE BIOREACTORS
Introduction
Factors Affecting Fouling in MBR
Fouling by Biological Material
Fouling Characterization Without Visualization Techniques
Invasive Methods for Fouling Observation
Non-Invasive Observation Methods
MONITORING TECHNIQUE FOR WATER TREATMENT MEMBRANE PROCESSES
Introduction
Development of Fouling Monitoring Techniques
Dynamic Analysis of Online Fouling Monitoring