Monoterpenoid Indole Alkaloids, Supplement to Part 4, Volume 25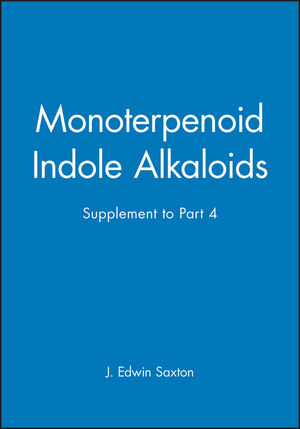 Monoterpenoid Indole Alkaloids, Supplement to Part 4, Volume 25
ISBN: 978-0-471-95112-4 January 1995 860 Pages
Description
Internationally renowned specialists present a comprehensive survey of the latest advances in this area. The biosynthetic and structural relationships of these compounds are summarized and newly discovered alkaloids described. Discusses versatile biomimetic procedures as well as the pharmacology and clinical applications of monoterpenoid indole alkaloids. Botanical names of all plants cited have been extensively referenced.
Table of contents
The Biosynthesis of Terpenoid Indole Alkaloids.

Alkaloids Derived from Tryptamine and an Unrearranged MonoterpeneUnit.

The Corynantheine-Heteroyohimbine Group.

The Yohimbine Group.

The Akuammidine-Quebrachidine-Ervatamine-Gelsemine-AkuammilineGroup.

The Uleine-Ellipticine-Vallesamine-Ngouniensine Group.

The Strychnos Alkaloids.

The Aspidospermine Group.

The Eburnamine-Vincamine Group.

The Ibogamine-Catharanthine Group.

Bisindole Alkaloids.

The Cinchona Alkaloids.

Camptothecin.

Pharmacology, Biochemistry, and Clinical Applications of theMonoterpenoid Alkaloids.

Indexes.