Montgomery Auditing Continuing Professional Education, 12th Edition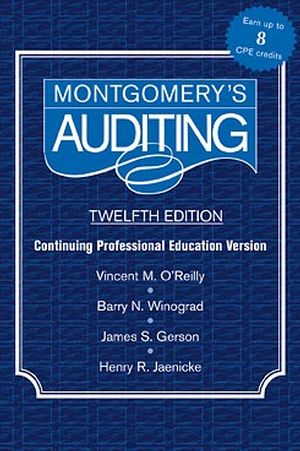 Montgomery Auditing Continuing Professional Education, 12th Edition
ISBN: 978-0-471-34605-0 August 1999 694 Pages
Description
Montgomery's Auditing is the definitive handbook on auditing, and this Continuing Professional Education version is a professional edition of the successful subscription reference, providing a condensed, yet complete overview of auditing for the professional as well as the senior level student. The strategies contained help to strengthen the auditor's skills in the profession's core service-audits conducted in accordance with GAAS of financial statements prepared in conformity with GAAP.
Table of contents
THE AUDIT ENVIRONMENT.

An Overview of Auditing.

Organization and Structure of the Auditing Profession.

Auditing Standards and Professional Conduct.

Auditor's Professional Responsibility.

Auditor's Legal Liability.

THEORY AND CONCEPTS.

The Audit Process.

Engagement Planning and Management.

Overview of Internal Control.

Understanding Entity-Level Controls.

Understanding Activity-Level Controls.

Assessing Control Risk and Developing the Audit Strategy.

Auditing the Revenue Cycle.

Auditing the Purchasing Cycle.

Substantive Tests.

The Use of Audit Sampling.

AUDITING SPECIFIC ACCOUNTS.

Auditing Cash and Accounts Receivable.

Auditing Inventories and Cost of Sales.

Auditing Investments, Prepayments, and Accruals, and Property, Plant, and Equipment.

Auditing Accounts Payable, Income Taxes, Debt and Equity, and Disclosures.

COMPLETING THE WORK AND REPORTING THE RESULTS.

Completing the Audit.

Reporting on Audited Financial Statements.

Reporting on Audit-Related Services and on Certain Nonaudit Services.

Attestation Engagements.

Compliance Auditing.
What's New
Classroom version of the classic auditing reference, Montgomery's Auditing, first published in 1912 and now in its twelfth edition.
Condensed from the subscription version and tailored for use by students.
Guides students through an overview of the audit environment, planning and managing the audit, auditing specific account balances and disclosures, reporting, and finally other audit-related services and attest engagements performed by CPAs.
Highlights the importance of understanding internal control in planning and performing audits.
Emphasizes how an understanding of the entity's industry and of management's processes for developing accounting estimates and judgments affects audit effectiveness.
Instructor's Manual contains question and solutions for each chapter in multiple choice, discussion, and problem and case formats.