Montgomerys Auditing, 3rd College Version, 11th Edition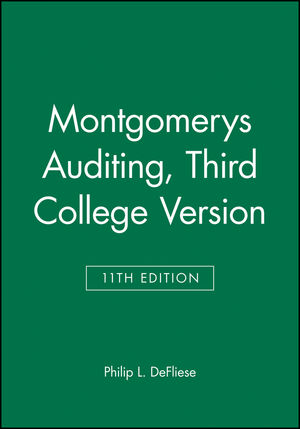 Montgomerys Auditing, 3rd College Version, 11th Edition
ISBN: 978-0-471-50706-2
May 1990
912 pages
Description
Essential auditing concepts, practices, and responsibilities
Auditing has long been an essential part of business, but the term "audit" covers such a broad scope that it may be difficult to define an auditor's role in the context of a single organization. Montgomery Auditing, 11th Edition, Third College Version details the role's responsibilities and processes to provide essential guidance for professional auditors. Clear explanations of legal liability and auditing standards builds the foundation of the field, while extensive guidance throughout the auditing process provides both general information and targeted, situation-specific advice.
THE AUDIT ENVIRONMENT.

The Organization and Structure of the Auditing Profession.

Auditing Standards and Professional Conduct.

Professional Responsibility and Legal Liability.

THEORY AND CONCEPTS.

The Audit Process.

Audit Risk, Materiality, and Engagement Strategy.

The Internal Control Structure.

Assessing Inherent and Control Risk.

Controlling Detection Risk: Substantive Tests.

The Extent of Testing: Audit Sampling.

Auditing in an EDP Environment.

AUDITING SPECIFIC CYCLES AND ACCOUNTS.

Auditing the Revenue Cycle.

Auditing the Buying Cycle.

Auditing the Production Cycle, Cost of Sales, and Inventory Balances.

Auditing Cash Balances and Property, Plant, and Equipment.

Auditing Investments, Prepayments and Accruals, Taxes, and Debt and Equity Accounts.

COMPLETING THE WORK AND REPORTING THE RESULTS.

Completing the Audit.

The Auditor's Report.

Responsibilities in Other Engagements.

Appendices.

Index.