Mood Disorders: A Handbook of Science and Practice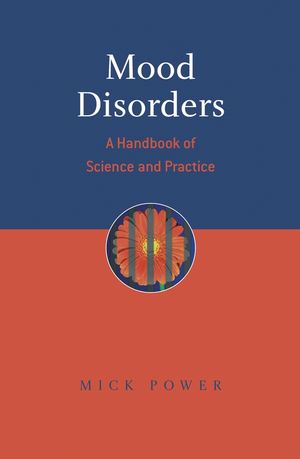 Mood Disorders: A Handbook of Science and Practice
ISBN: 978-1-119-94080-7 October 2011 394 Pages
Description
This is a paperback edition of the highly successful Mood Disorders, first published in 2003.

The book is organised into three parts: Part I, Unipolar Depression; Part II, Bipolar Depression; and Part III, General Issues. Chapters in Parts I and II discuss classification, biological models, CBT and other treatment approaches for each disorder. Part II covers approaches to assessment, suicide and depression in older adults. The final chapter offers a summary and suggests new directions for research and practice.
Advances in clinical understanding of diagnosis, pathophysiology, comorbidity and treatment are clearly presented
Strong emphasis on a complex approach to mood disorders, with both psychological and biological perspectives on causes and treatment covered

Addresses issues such as diagnosis, the relation of depression to bipolar disorder and psychotherapeutic treatments.
About the Editor.
List of Contributors.
Foreword by Kay Redfield Jamison.
PART I: UNIPOLAR DEPRESSION.
1. The Classification and Epidemiology of Unipolar Depression (P. Bebbington).
2. Biological Models of Unipolar Depression (A. Cleare).
3. Cognitive Models and Issues in Depression (P. Bieling & Z. Segal).
4. Socioemotional Functioning in Depression (J. Rottenberg & I. Gotlib).
5. Developmental Perspectives on Depression in Young People (R. Harrington).
6. Depression: A Biopsychosocial, Integrative, and Evolutionary Approach (P. Gilbert).
7. Biological Treatments of Mood Disorders (K. Ebmeier, et al.).
8. Cognitive Behavioural Therapy for Depression (M. Power).
9. Interpersonal Psychotherapy of Depression (J. Markowitz).
PART II: BIPOLAR DEPRESSION.
10. Epidemiology and Classification of Bipolar Disorder (J. Cavanagh).
11. Biological Theories of Bipolar Disorder (D. Blackwood & W. Muir).
12. Bipolar Affective Disorder: Current Perspectives on Psychological Theory and Treatment (K. Wright & D. Lam).
13. Integration of Patient, Provider, and Systems Treatment Approaches in Bipolar Disorder: Where Evidence Meets Practice Reality (S. Parikh & S. Kennedy).
14. Cognitive Behavioural Therapy for Bipolar Affective Disorder (M. Schwannauer).
15. Interpersonal and Social Rhythm Therapy (H. Swartz, et al.).
16. Self-Management and the Expert Patient (A. Palmer & J. Scott).
PART III: GENERAL ISSUES.
17. Current Approaches to the Assessment of Depression (D. Peck).
18. Suicide and Attempted Suicide (A. MacLeod).
19. Depression in Older Adults (K. Laidlaw).
20. Summary and New Directions (M. Power).
Author Index.
Subject Index.