Mood Disorders: Clinical Management and Research Issues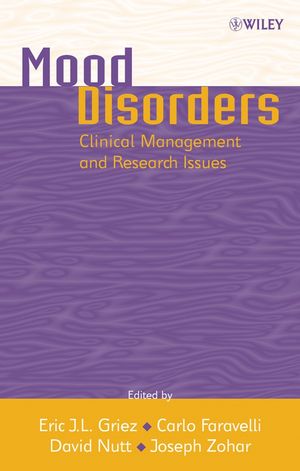 Mood Disorders: Clinical Management and Research Issues
ISBN: 978-0-470-09428-0 November 2005 562 Pages
Description
Written by an outstanding team of internationally recognised experts, this practical textbook is based on the European Certificate in Anxiety and Mood Disorders.
It provides a thorough overview of diagnosis and treatment of mood disorders and analyses the most recent developments and scientific evidence.
Covers the most important clinical topics in the field, including symptomatology, natural course and diagnosis

Treatment strategies are reviewed in the light of all available empirical evidence

Outstanding list of international contributors
Table of contents
Preface (Griez).
Introduction (van Praag).
Part I: Epidemiology/Genetics.
1  The Epidemiology of Mood Disorders (Jacobi et al).
2  Genetics of Mood Disorders (Serretti).
Part II: Syndromes and Nosology of Mood Disorders.
3  Unipolar Depression (Faravelli et al).
4  Bipolar Disorder (Tondo).
5  Subthreshold Mood Disorders (Pini et al).
6  Suicidal Behaviour (de Leo and Spathonis).
Part III: Underlying Mechanisms.
7  Neurobiology of Depression (Cowen).
8  Stress and Depression: The Inflammatory Hypothesis (van West el al).
9  Brain Imaging in Affective Disorders (Malizia).
Part IV: Treatment.
10  The Treatment of Depression (Hale).
11  Psychological Treamtent of Depression (Roelofs and Muris).
12  Treatment-Resistant Mood Disorders: From Diagnosis to Treatment (Souery et al).
13  Brain Stimulation in Depression (Schlaepfer and Kosel).
Part V: Research Issues and Debates.
14  Potential Targets for the Treatment of Depressive Disorders (Rollema and Sprouse).
15  Sleep Research and Affective Disorders (Wilson and Nutt).
16  Implementing Clinical Trials (Cosci and Faravelli).
17  Mood and Anxiety Disorders - A Diagnostic Pleonasm? (van Praag).
18  At the Interface of Depression and Anxiety: Comorbidity and Concepts (Overbeek and Griez).
Index.
Reviews
"…the chapters…are well-written, solid descriptions of specific topical areas of mood disorders…" (
PscyCRITIQUES
, July 26, 2006)
"…few [publications on mood disorders] are as thorough and as well written as this excellent book…this book should be required reading for all psychiatrists and psychiatry residents…" (Doody's Health Services)