Moodle For Dummies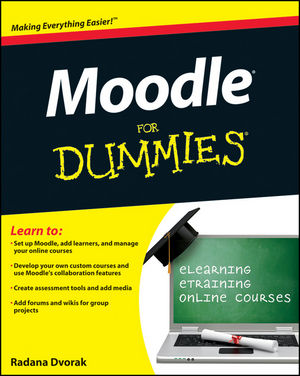 Moodle For Dummies
ISBN: 978-0-470-94942-9
May 2011
408 pages
Description
The fun and friendly guide to the world's most popular online learning management system
Modular Object Oriented Dynamic Learning Environment, also known as Moodle, is an online learning management system that creates opportunities for rich interaction between educators and their audience. However, the market has been lacking a simple, easy-to-understand guide that covers all the essentials of Moodle?until now. Using straightforward language and an entertaining tone to decipher the intricate world of Moodle, this book provides you with the resources you need to take advantage of all the eLearning and eTraining possibilities that Moodle offers.
Offers a hands-on approach to learning Moodle, the revolutionary online learning management system
Uses simple language peppered with good humor to break down the complexities of Moodle into easily digested pieces of information
Caters to the specific needs of teachers and business trainers by providing the resources they need
Moodle For Dummies provides you with the tools you need to acquire a solid understanding of Moodle and start implementing it in your courses.
Introduction.
Part I: Getting Started with Moodle.
Chapter 1: Discovering Moodle and What You Can Do.
Chapter 2: Designing Great Moodle Courses.
Chapter 3: Building Your Course Front Page.
Chapter 4: Creating Your Course.
Part II: Creating and Managing Course Content.
Chapter 5: Adding Content to Your Course: Resources.
Chapter 6: Adding Audio and Video to Your Course by Using Free Software.
Chapter 7: Grading Learners' Progress and Knowledge.
Part III: Adding Activities to Your Moodle Course.
Chapter 8: Adding Communication Modules.
Chapter 9: Adding Collaborative Modules.
Chapter 10: Creating Assignments.
Chapter 11: Quizzing and Testing in Moodle.
Chapter 12: Using Databases to Share Resources and Adding the Latest News via RSS.
Part IV: Moodle Management.
Chapter 13: Administering Moodle Courses.
Chapter 14: Managing Course Data, Reports, Logs, and Statistics.
Part V: The Parts of Tens.
Chapter 15: Ten Questions to Ask before Building and Launching Your Course.
Chapter 16: Ten Creative Ways to Keep Your Learners Involved in Your Course.
Index.