Moral Questions: An Introduction to Ethics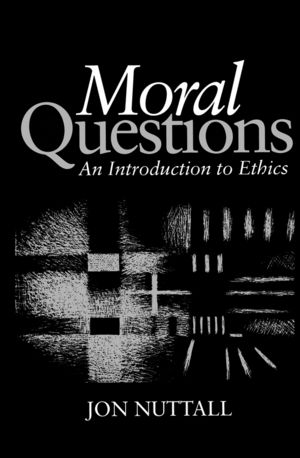 Moral Questions: An Introduction to Ethics
ISBN: 978-0-745-61040-5 April 1993 Polity 228 Pages
Description
This new introduction to ethics is written for students who are approaching philosophy for the first time.
Preface.
1. Applying Philosophy to Moral Issues.
2. Giving Reasons and Making Judgements.
3. Finding Grounds for Moral and Religious Education.
4. Punishment and Responsibility.
5. Sex and Morality.
6. Pornography, Violence and Censorship.
7. Abortion.
8. Persons, Children and Embryos.
9. Suicide and the Value of Life.
10. Euthanasia.
11. War, Terrorism and Protest.
12. Animal Rights.
13. Fitting Persons into Theories.
Further Reading.
Index.
'This is an eminently readable introduction to moral philosophy. A useful introductory text.'
Gail Tulloch, Griffith University
'It is good to find an 'introductory text' on ethics which uses the first person and puts its cards directly on the table: ... Nuttall takes a 'problems' approach to ethics, with a strong emphasis on the personal.' Australian Journal of Philosophy
'Moral Questions can be recommended to anyone beginning moral philosophy, but especially to those with only a small or no experience of philosophy. Jon Nuttall is a good guide to the moral maze. He knows his way through whilst not missing what there is to be seen of interest on the way. It would be particularly suitable for 'A' level students and first-year undergraduates. One would also recommend it to students taking moral philosophy as part of another discipline or training - nurses, midwives, doctors or business students.'
Robert Campbell, Principal Lecturer in Philosophy, Bolton Institute, and Chief Examiner, 'A' Level Philosophy, A. E. B. (1987-92)
'The book is written with a commendable clarity and lack of technicality ... stimulating and useful.' The Philosopher
* This book is a basic but very lively introduction to moral philosophy and ethics. It does not assume any prior knowledge of philosophy.
* Clear and accessible, the book focuses on practical and topical questions whilst avoiding technical jargon.
* Nuttall covers a wide range of very topical issues - euthanasia, abortion, war - and shows how a philosophical approach can shed light on them.