Moral Theory and Anomaly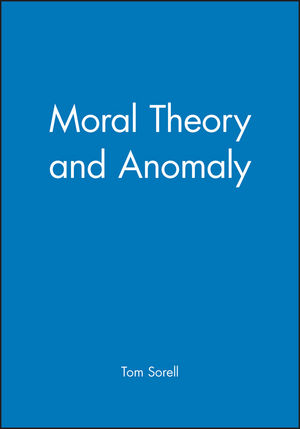 Moral Theory and Anomaly
ISBN: 978-0-631-21834-0 February 2000 Wiley-Blackwell 232 Pages
Download Product Flyer
Download Product Flyer
Download Product Flyer is to download PDF in new tab. This is a dummy description. Download Product Flyer is to download PDF in new tab. This is a dummy description. Download Product Flyer is to download PDF in new tab. This is a dummy description. Download Product Flyer is to download PDF in new tab. This is a dummy description.
Description
Moral Theory and Anomaly considers and rejects the claim that moral theory is too utopian to apply properly to worldly pursuits like political office holding and business, and too patriarchal and speciesist to generate a theory of justice applicable to women and the non-human natural world.
Table of contents
Preface.
Part I: Doubts About Moral Theories.
1. Moral Theory and Anti-Theory: Uses for Moral Theory.
Scepticism about Moral Theory.
Countering Anti-Theory.
Summary.
2. Theory versus Theories: Williams on Moral Theory.
A Rough Parallel: Normal Science and Standard Normative Ethical Theory.
Puzzles in Moral Theory.
Puzzles versus Anomalies.
The Argument of the Rest of the Book.
Part II: Some Sources of Anomaly?.
3. Business, the Ethical and Self-interest: Two Sources of Prima Facie Anomaly.
The Utopianism of Business Ethics.
Moral Sensibility and Insensibility in Business.
Moral Reasons Again.
The Deep Problem in Business Ethics.
4. Politics, Power and Partisanship: Political Morality: The Moral Risks of Power for the Public Good.
Dirty Hands.
Public Morality, Private Morality and Moral Schizophrenia.
Hampshire's Anti-Theory of Political Morality.
The Difference Democracy Makes.
Democracy and Partisanship.
5. Feminism and Moral Theory: How Conventional Theories Let Women Down.
Moral Theory After Gilligan.
Beyond Care? Sarah Hoagland's Lesbian Ethics.
Theory Without Patriarchy?.
The Challenge of Practice: Two True Stories.
Conclusion.
6. Environmentalism and Moral Theory: The Land Ethic and its Competitors.
Is the Land Ethic a Moral Theory?.
How Thoroughgoing is the Land Ethic?.
The Problem of Grounding Reconsidered.
From Deep Environmentalist Theory to Practice.
A Residual Anomaly.
Part III: Conclusion.
7. The Significance of Anomaly: Anomalies Reviewed.
Do Anomalies Have Anything in Common?.
The Significance of Anomaly.
Notes.
Index.
Reviews
"In a spirited and wide-ranging defence of ethical theory, Sorell combines sympathetic understanding and penetrating criticism. Both sceptics about theory and proponents of new paradigms will need to engage with his arguments."
--
Jimmy Altham,
University of Cambridge
"Sorell convincingly shows how certain issues in applied ethics create anomalies. Do these anomalies result in a justified scepticism toward traditional ethical theory? No, but the claims of traditional theory must be more modest. A subtle and persuasive piece of philosophy."
--Norman Bowie, The London Business School
Features
? Explains and explores the issue of scepticism concerning the role of moral theory expressed recently by several philosophers including Bernard Williams, Annette Baier, and Richard Rorty.
* Provides a very powerful and vital defence, not of any one moral theory, but of the very practice of moral theorising.
* Explores role of normative theory in political and business ethics as well as environmental and feminist ethics.