More Dress Pattern Designing: Classic Edition, 4th Edition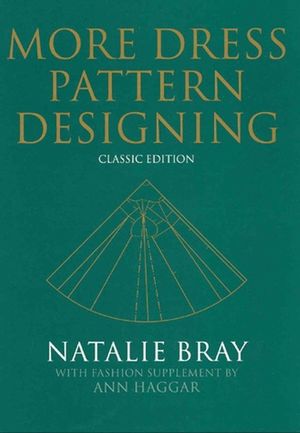 More Dress Pattern Designing: Classic Edition, 4th Edition
ISBN: 978-0-632-06502-8
Feb 2003, Wiley-Blackwell
208 pages
Description
The techniques Natalie Bray pioneered and perfected revolutionised dress pattern designing, assisting the rise of the modern fashion industry. Her teaching has had a profound influence on design, production and education and her works are classics: fashions change but the principles of designing patterns in the flat do not.

This book covers advanced cutting, lingerie, tailoring and children's clothes. It expands the basic course set out in Natalie Bray's Dress Pattern Designing and shows the application of the basic principles and methods to more advanced styles as well as to specialised cutting.
Biographical Note.
Introductory.
Abbreviations and reference Letters..
Part I: Advanced Cutting.
One. The Princess Dress and the Pane Bodice.
Two. The Kimono Block Pattern.
Three: Using the Kimono Block:Style Adaptations.
Four. The Raglan.
Five The drop-Shoulder Cut.
Six. Sleeves and Armholes of more elaborate cut.
Seven. Draped Styles..
Part II.
Eight. Lingerie: Petticoats, Brassieres, Nightdresses.
Nine. Lingerie: Knicker Patterns.
Ten. Tailoring Patterns: Jackets.
Eleven Tailoring Patterns: Coats, Capes.
Twelve. Sportswear: Slacks, Shorts, Divided Skirts.
Thirteen. Children's Patterns: The Blocks.
Fourteen. Pattern Designing for Children.
Appendix : Hoods.
Fashion Supplement.
The Losses Fitting Trouser Block.
Adaptations from the Loose Fitting Trouser Block.
The Basic One-Piece Body Block.
Adaptations from teh One-Piece Body Block Grading.
General Preparation for Grading - bodice, skirt sleeve, trouser.
Index.
* Classic work, reissued simultaneously in hardback with Natalie Bray's Dress Pattern Designing and Dress Fitting
* Natalie Bray's works expound the techniques of pattern design which still underpin the modern fashion industry