More Than a Numbers Game: A Brief History of Accounting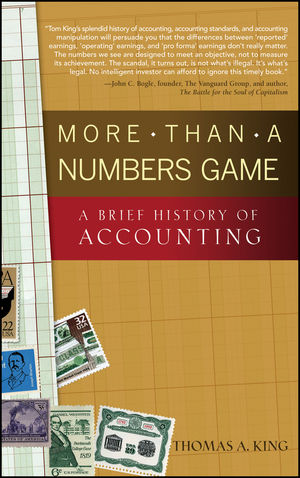 More Than a Numbers Game: A Brief History of Accounting
ISBN: 978-0-470-00873-7 September 2006 256 Pages
Description
The world certainly suffers no shortage of accounting texts. The many out there help readers prepare, audit, interpret and explain corporate financial statements. What has been missing is a book offering context and discussion for divisive issues such as taxes, debt, options, and earnings volatility. King addresses the why of accounting instead of the how, providing practitioners and students with a highly readable history of U.S. corporate accounting. More Than a Numbers Game: A Brief History of Accounting was inspired by Arthur Levitt's landmark 1998 speech delivered at New York University. The Securities and Exchange Commission chairman described the too-little challenged custom of earnings management and presaged the breakdown in the US corporate accounting three years later.

Somehow, over a one-hundred year period, accounting morphed from a tool used by American railroad managers to communicate with absent British investors into an enabler of corporate fraud. How this happened makes for a good business story. This book is not another description of accounting scandals. Instead it offers a history of ideas.

Each chapter covers a controversial topic that emerged over the past century. Historical background and discussion of people involved give relevance to concepts discussed. The author shows how economics, finance, law and business customs contributed to accounting's development. Ideas presented come from a career spent working with accounting information.
Buy Both and Save 25%!
Original Price:$68.45
Purchased together:$51.34
save $17.11
Cannot be combined with any other offers.
Buy Both and Save 25%!
Original Price:$71.45
Purchased together:$53.59
save $17.86
Cannot be combined with any other offers.
About the Cover ix
Preface xi
1 Double-Entry 1
2 Railroads 13
3 Taxes 23
4 Costs 41
5 Disclosure 55
6 Standards 71
7 Science 89
8 Inflation 103
9 Volatility 115
10 Intangibles 131
11 Debt 145
12 Options 159
13 Earnings 171
14 SOX 187
15 Epilogue 207
Notes 213
Bibliography 223
Index 235
About the Author 242
"With his solid credentials—a CPA, CMA and Harvard MBA, as well as the current treasurer of Progressive Insurance—King proves himself to be the insider, the historian, the yenta of the accounting profession.
More Than a Numbers Game
offers enough insights to give occasional pause even to those who have a real grasp of the wheres and whys behind the regulations that are dear to the heart of every practitioner." (
Journal of Accountancy
, May 2007)
"The author is at his best when telling stories, whether of the twists and turns in specific accounting standards from the 1940s to the present, of the accounting transgressions of Enron, Global Crossing, WorldCom, and HealthSouth, or of the factors leading to the demise of Arthur Andersen. ... King's gift for rendering complex ideas into easily understandable explanations, all in a conversational style, makes this book accessible to the general investing public as well.... This refreshing book is a well-researched, well-written, and intelligent explanation of modern-day U.S. accounting and how it has evolved to its present state." (The CPA Journal, April 2007)
"King's chapter on volatility shows how U.S. companies can account for transactions in foreign currencies three different ways, all of them legitimate. His chapter about the Sarbanes-Oxley corporate disclosure laws has an astute analysis of the accounting frauds at Enron and WorldCom that begat that legislation." (Newsweek, April 16, 2007)
"This demystifying book is likely to interest corporate folk who want to understand better the whys of the accounting practices they use, as well as inquiring investors." (Harvard Magazine, November-December 2006)
"Inspired by a 1998 speech by former SEC Chairman Arthur Levitt, this book addresses the why of accounting instead of the how, providing practitioners and students with a highly readable history of U.S. corporate accounting." (SmartPros Accounting News & Insights, September 2006)