Morningstar's 30-Minute Money Solutions: A Step-by-Step Guide to Managing Your Finances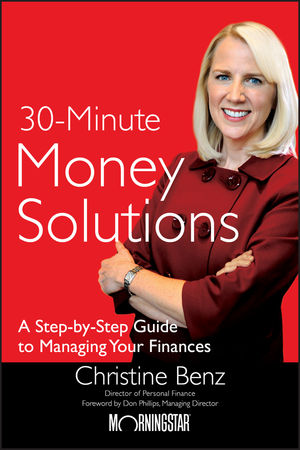 Morningstar's 30-Minute Money Solutions: A Step-by-Step Guide to Managing Your Finances
ISBN: 978-0-470-91813-5
Mar 2011
320 pages
Description
The quick and easy way to manage money and achieve financial goals

The recent economic meltdown has left people in terrible financial shape with little idea of how to turn things around. Using Morningstar's time-tested strategies and sensible approach to money management, Morningstar's 30-Minute Money Solutions: A Step-by-Step Guide to Managing Your Finances breaks down important financial tasks into do-able chunks, each of which can be accomplished in 30 minutes or less. The practical, no-nonsense book

Lays out the tools to get organized, including how to create a filing and bill paying system
Details how to find the best uses for one's money, as well as how to properly invest for savings, college, and retirement
Other titles by Benz: Morningstar® Guide to Mutual Funds: Five Star Strategies for Success
These are uncertain times. Morningstar's 30-Minute Money Solutions provides expert guidance on all aspects of personal money management, and it does so in quick, easily digestible steps.
Foreword.
Preface.
Acknowledgments.
PART ONE: FIND YOUR BASELINE.
Chapter 1: Calculate Your Net Worth.
Chapter 2: See Where Your Money Goes.
Chapter 3: Set Your Financial Goals.
Chapter 4: Create a Budget.
PART TWO: GET ORGANIZED.
Chapter 5: Create a Bill-Paying System.
Chapter 6: Create a Filing System.
Chapter 7: Create a Master Directory.
PART THREE: FIND THE BEST USE OF YOUR MONEY.
Chapter 8: Determine Whether to Pay Down Debt or Invest.
Chapter 9: Decide Where to Invest for Retirement.
PART FOUR: GET STARTED IN INVESTING.
Chapter 10: Create an Emergency Fund.
Chapter 11: Find the Right Stock/Bond Mix.
Chapter 12: Create an Investment Policy Statement.
Chapter 13: Invest for Short- and Intermediate-Term Goals.
Chapter 14: Create a Hands-Off Long-Term Portfolio.
PART FIVE: INVEST IN YOUR COMPANY RETIREMENT PLAN.
Chapter 15: Determine How Good Your Company Retirement Plan Is.
Chapter 16: Decide between a Traditional and Roth 401(k).
Chapter 17: Select the Best Investments for Your Company Retirement Plan.
Chapter 18: Make the Most of a Subpar 401(k) Plan.
PART SIX: INVEST IN AN IRA.
Chapter 19: Determine What Type of IRA Is Best for You.
Chapter 20: Identify the Best Investments for Your IRA.
Chapter 21: Determine Whether to Convert Your IRA.
Chapter 22: Roll Over Your Retirement Plan into an IRA.
PART SEVEN: INVEST FOR COLLEGE.
Chapter 23: Find the Right College Savings Vehicle.
Chapter 24: Find the Right 529 Plan.
Chapter 25: Select the Right Investments for Your College Savings Plan.
PART EIGHT: INVEST IN YOUR TAXABLE ACCOUNT.
Chapter 26: Identify the Best Investments for Taxable Accounts.
Chapter 27: Manage Your Portfolio for Tax Efficiency.
Chapter 28: Harvest Tax Losses.
PART NINE: INVEST DURING RETIREMENT.
Chapter 29: Determine Your Portfolio Withdrawal Rate.
Chapter 30: Build an In-Retirement Portfolio.
Chapter 31: Find the Right Sequence of In-Retirement Withdrawals.
PART TEN: MONITOR YOUR INVESTMENTS.
Chapter 32: Conduct a Portfolio Checkup.
Chapter 33: Rebalance Your Portfolio.
PART ELEVEN: COVER YOUR BASES ON ESTATE PLANNING.
Chapter 34: Get Started on Your Estate Plan.
Chapter 35: Handle Beneficiary Designations.
Chapter 36: Create a Personal Legacy.
About the Author.
Index.
"This book isn't one that requires you to read it all the way through, as the author freely admits. But if you have a question about retirement plans, emergency funds, 529 plans or the right stock/bond mix, among many other subjects, it's a fine financial road map. Benz's conversational, straightforward make this a pleasant and very useful read."
—Associated Press, January 2010