Mortal Subjects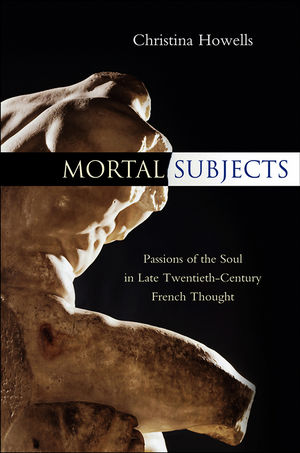 Mortal Subjects
ISBN: 978-0-745-63629-0 May 2013 Polity 264 Pages
Description
This wide ranging and challenging book explores the relationship between subjectivity and mortality as it is understood by a number of twentieth-century French philosophers including Sartre, Lacan, Levinas and Derrida. Making intricate and sometimes unexpected connections, Christina Howells draws together the work of prominent thinkers from the fields of phenomenology and existentialism, religious thought, psychoanalysis, and deconstruction, focussing in particular on the relations between body and soul, love and death, desire and passion.

From Aristotle through to contemporary analytic philosophy and neuroscience the relationship between mind and body (psyche and soma, consciousness and brain) has been persistently recalcitrant to analysis, and emotion (or passion) is the locus where the explanatory gap is most keenly identified. This problematic forms the broad backdrop to the work's primary focus on contemporary French philosophy and its attempts to understand the intimate relationship between subjectivity and mortality, in the light not only of the 'death' of the classical subject but also of the very real frailty of the subject as it lives on, finite, desiring, embodied, open to alterity and always incomplete. Ultimately Howells identifies this vulnerability and finitude as the paradoxical strength of the mortal subject and as what permits its transcendence.

Subtle, beautifully written, and cogently argued, this book will be invaluable for students and scholars interested in contemporary theories of subjectivity, as well as for readers intrigued by the perennial connections between love and death.

Table of contents
Acknowledgements vi
Abbreviations vii
1 Introduction: Love and Death 1
2 Phenomenology of Emotion and Forgetfulness of Death 24
Jean-Paul Sartre, Maurice Merleau-Ponty, Simone de Beauvoir
3 Religious Philosophy: Keeping Body and Soul Together 69
Gabriel Marcel, Paul Ricoeur, Vladimir Jankélévitch, Emmanuel Levinas
4 Psychoanalytic Thought: Eros and Thanatos, Psyche and Soma 127
Jacques Lacan, Didier Anzieu, Julia Kristeva
5 The Deconstruction of Dualism: Death and the Subject 175
Jacques Derrida and Jean-Luc Nancy
Epilogue 216
Notes 228
Bibliography 244
Index 259
Reviews
"An admirably clear account of a broad yet focused strand of twentieth-century French thought, and an impassioned yet subtle argument for its incompletion."
French Studies
"This book constitutes a magisterial study in its scope, the number of authors and perspectives studied, and the exactness and profundity of its aims. It goes as far as possible today in interrogating the supposed distinction between mind and body or between life and death (two couples in parallel and chiasmatic opposition). It's not a question of dissolving this double difference, but of thinking of it as the self-difference within a single 'subject'. This thought is crucial at a time when there is a danger of bodies becoming things and of death becoming insignificant. Christina Howells's journey is a powerful, rousing and passionate one: we must join her!"
Jean-Luc Nancy, European Graduate School
"Christina Howells's book approaches in an original way contemporary French thought by focusing on the intertwining of love and death, of body and soul, of passion and pain. By rigorously analysing several famous thinkers, but also less well-known authors, such as Gabriel Marcel or the psychoanalyst Didier Anzieu, she brings to light unexpected correspondences and fertile aporias, and introduces the reader to the richness and diversity of current continental thinking."
Jacob Rogocinski, Strasbourg University
"With wisdom, passion and great care, Christina Howells opens a world of understanding - from the ancient Greeks to contemporary neuroscience - to reveal modern French thought as a vital ally in our attempts to understand embodied existence. One of those rare books that help us think more deeply and feel more intensely, it is a magnificent achievement."
Martin Crowley, Queens' College, University of Cambridge