Mortality, Immortality and Other Life Strategies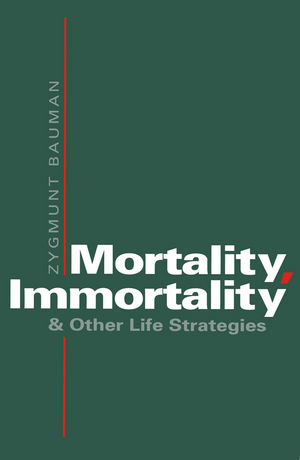 Mortality, Immortality and Other Life Strategies
ISBN: 978-0-745-65666-3 May 2013 Polity 224 Pages
Description
Zygmunt Bauman's new book is a brilliant exploration, from a sociological point of view, of the 'taboo' subject in modern societies: death and dying. The book develops a new theory of the ways in which human mortality is reacted to, and dealt with, in social institutions and culture. The hypothesis explored in the book is that the necessity of human beings to live with the constant awareness of death accounts for crucial aspects of the social organization of all known societies. Two different 'life strategies' are distinguished in respect of reactions to mortality. One, 'the modern strategy', deconstructs mortality by translating the insoluble issue of death into many specific problems of health and disease which are 'soluble in principle'. The 'post-modern strategy' is one of deconstructing immortality: life is transformed into a constant rehearsal of 'reversible death', a substitution of 'temporary disappearance' for the irrevocable termination of life.
This profound and provocative book will appeal to a wide audience. It will also be of particular interest to students and professionals in the areas of sociology, anthropology, theology and philosophy.
Table of contents
1. Living with Death.
2. Bidding for Immortality.
3. The Selfish Species.
4. Modernity, or Deconstructing Mortality.
5. Postmodernity, or Deconstructing Immortality.
Postscript: "To Die For..." or Death and Morality.
About This Book.
References.
Reviews
'Characteristically perceptive ... this indispensable book shines harsh X-rays through the western body politic to reveal a skeleton in the closet of recent social history.'
New Statesman and Society
'A brilliant, outstanding book.' Manna
'A fascinating, and at times novel, interpretation of the cultural meanings of death.' Times Higher Education Supplement
'Bauman's work taken as a whole adds up to a formidable analysis and critique of modernity and its complement.' Social History of Medicine
'Those who find pleasure ... in decoding the references, in pursuing ideas in a playful way, in enjoying once again the old academic wit and style, in exposing contradictions in our feeble settlements and cultural rapprochernents will enjoy it enormously.' Reviewing Sociology
Features
* Zygmunt Bauman is one of the world's leading social theorists.
* This is a profound and provocative book which will have wide general appeal.
* Bauman's previous books have all been well received.