Mortgage Ripoffs and Money Savers: An Industry Insider Explains How to Save Thousands on Your Mortgage or Re-Finance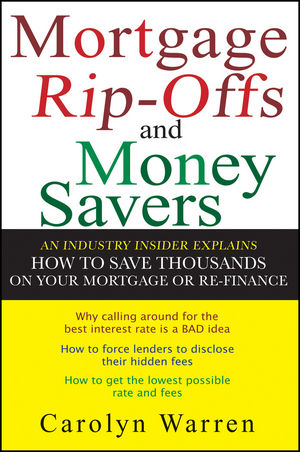 Mortgage Ripoffs and Money Savers: An Industry Insider Explains How to Save Thousands on Your Mortgage or Re-Finance
ISBN: 978-0-470-09783-0 May 2007 256 Pages
Description
Mortgage Rip-offs and Money Savers reveals how the mortgage industry cheats borrowers out of billions in extra costs every year. Mortgage industry insider Carolyn Warren taps her decade of experience with lenders to expose the tricks, lies, and dirty little secrets they don't want you to know. With her expert guidance, borrowers will save tens of thousands when they avoid the traps so many consumers fall into. Having this inside information is the only way borrowers can truly get the best possible deal. This book presents that knowledge in an interesting and easy format that anyone can understand. Readers won't be victims of the mortgage industry with this invaluable resource in hand. Instead, they'll get the best possible rates, avoid bogus fees, and get the great deal they deserve.
Table of contents
ACKNOWLEDGMENTS.
INTRODUCTION.
PART I : Eight-Step Guide to Getting the Best Rate and Protecting Yourself from Most Common Scams.
CHAPTER 1 Step 1: Boost Your Credit Rating and Prequalify.
What Credit Score Do You Need to Buy a Home?
Additional Notes about How Lenders Rate Credit.
What to Do if You Have Credit Challenges.
People with Low Scores Get Ripped Off More Often.
Find Out How Much You Qualify For.
The Three-Step Preapproval Process.
How Do Lenders Decide How Much Money to Lend You?
Which Payments Count for Debt Ratio?
Pick Your Own Budget.
Coming Up.
CHAPTER 2 Step 2: Create a Short List of Three Honest Mortgage Lenders.
Tricks to Foil Your Shopping Efforts.
Selling the Sizzle.
Special Deals and Secret Loans.
The Loan They Don't Want You to Know About.
The Sticky Trick.
Creating Your Short List.
Write Down Two Mortgage Companies and One Bank.
Make One a Referral.
Get a Specific Name.
Using an Internet Lender.
Big National Lenders versus Local Lenders.
Listen to Your Instincts.
Coming Up.
CHAPTER 3 Step 3: Choose the Right Type of Loan for Your Situation.
Types of Loans.
30-Year Fixed Rate.
15-Year Fixed Rate.
40-Year or 45-Year Fixed Rate.
Adjustable Rate Mortgage (ARM).
Balloon Loan.
2/28 and 3/27 "Fixed Rate" Adjustable Loans.
Interest-Only Loans.
Risky Loans.
Loans That Should Be Illegal.
Prepayment Penalties: Good and Bad.
What Is a Prepayment Penalty and How Does It Work?
Hard or Soft Prepayment Penalty?
Good Prepayment Penalties.
Biweekly Mortgage Savings: Bargain or Rip-Off ?
How Does It Really Work?
Coming Up.
CHAPTER 4 Step 4: Request Three Good Faith Estimates and Compare the Costs.
Bad Ideas.
Shopping for the Best Interest Rate Is a Bad Idea.
Comparing APR Is a Bad Idea.
Comparing Ads Is a Bad Idea.
How Should You Shop for a Mortgage?
How to Ask for Your Good Faith Estimates.
What if You Don't Know Your Credit Score?
How to Compare Good Faith Estimates.
Getting a Guarantee.
Finding an Honest Pro.
The Key to a Good Borrowing Experience.
Coming Up.
CHAPTER 5 Step 5: Uncover the Best-Kept Secret of the Mortgage Industry.
Stop Paying Too Much!
Conversations They Don't Want You to Hear.
How Do Commissions Work?
How Do Loan Officers' Commissions Work?
Who's Getting Par Rate?
There Should Be a Law.
Deciding between Broker and Banker.
Brokers Acting like Bankers.
Why Does the Law Treat Brokers and Bankers Dif ferently?
What's a Fair Price to Pay for Your Loan?
More on YSPs.
What Should You Do if YSP Is a Big Secret?
What if the YPS on Your Loan Goes Up?
Coming Up.
CHAPTER 6 Step 6: Negotiate Lower Fees and Rates.
Categorizing Fees.
Junk Fees: The Dirty Dozen.
Questionable Fees.
Legitimate Fees and Third-Party Costs.
Coming Up.
CHAPTER 7 Step 7: Decide Whether It Makes Sense to Pay Points, and Lock In Your Rate—Carefully.
The Truth about Par Rate and Discount Points.
Are You Protected with a Government Loan?
When Does It Make Sense to Pay a Loan Discount?
When It Might Make Sense to Buy Down Your Rate.
Lock In Your Rate.
What Is a Rate Lock and How Does It Work?
When Can You Lock In Your Rate?
What if Your Loan Doesn't Close on Time?
What if Rates Go Down after You Lock?
Do Mortgage Brokers Have an Advantage over Bankers?
Beware Rate Gambling!
Losing on a Rate Lock Gamble.
Insider's Guide to Protecting Yourself from Rate Lock Scams.
Coming Up.
CHAPTER 8 Step 8: Avoid the Five Most Common Unpleasant Closing Surprises.
Denial of Appraisal.
Seven Reasons a Lender Might Reject Your Appraisal.
Bait and Switch.
Determining Whether You've Been Duped.
Bait and Switch or Honest Mistake?
Mistakes.
Tricks at Signing.
Surprise Prepayment Penalty.
Insider's Handy Checklist for Avoiding Nasty Surprises.
Coming Up.
PA RT I I.
Tips for Homeowners Who Are Refinancing.
CHAPTER 9 What You Must Know before You Refinance.
How the Smooth-Talkers Work.
Four Tricks Equity "Strippers" Use.
Dangers of Refinancing Too Often.
Three Savvy Refinancing Strategies.
Two Savvy Refinancing Questions to Ask.
Three Refinancing Alerts.
Neophytes Posing and Managers (and Other Callers).
Payment Reduction Notices and Other Offers to Save.
Disputes over Your Home Value.
Coming Up.
CHAPTER 10 Watch Out if You're Rolling Fees into Your Loan!
The Scoop on Closing Costs.
The Worst Refinance: Could It Be Yours?
Pay Attention to the Numbers.
Coming Up.
PA RT I I I.
Special Topics and Unique Situations.
CHAPTER 11 Great Deals on below Market Rate Loans.
First-Time Homebuyer Programs Open to Anyone.
How to Qualify for a "First-Time" Loan.
Loans for Public Servants.
Inexpensive Loans for the Community-Minded.
Loans for People with a Disability.
Free Grants.
Who Can Get a Grant?
What Are the Grant Programs Called?
Where Can You Get a Grant Program?
How Do Grant Programs Work?
The Controversy.
Coming Up.
CHAPTER 12 Tips for Loans on Condos and Two- to Four-Family Homes.
How to Get a More Reasonably Priced Home.
Buying a Condo.
Investing in a Duplex, Triplex, or Fourplex: The Two- to Four-Family Home.
Financing an Investment Property.
Coming Up.
CHAPTER 13 What if You Get Turned Down?
Turning a Denied Loan into an Approved Loan.
The Secret to Writing an Effective Letter of Explanation.
Coming Up.
CHAPTER 14 What if Your Loan Doesn't Close?
Reasons Your Loan Might Not Close as Expected.
Something Bad Popped Up on Your Credit.
Your Job Situation Changed.
The Title Wasn't Clear.
The Appraisal Was Reviewed Again and Rejected.
Fraud Was Discovered.
The Funder Made an Error in Wiring.
Your File Grew Legs and Walked Away.
Natural or National Disaster Strikes.
Coming Up.
CHAPTER 15 Controversial Lender Laws.
Maximum Profit Allowed by Law.
Illegal Kickbacks.
Should Back-End Commissions Be Illegal?
Three Ways YSP Is a Benefit to Borrowers.
Coming Up.
CHAPTER 16 A Peek inside the Mortgage Industry.
Behind Closed Doors.
Secrets of the Underwriting Department.
Bribes.
Disappearing Documents.
Playing Favorites.
Secrets of the Sales Office.
Phony Specials.
Three Ways Wholesalers Compete.
The Bank's Bag of Tricks.
Why Minorities Pay More.
Scenes through a Hidden Camera.
Snapshot of the Ugly Side of Wholesale Lending.
Snapshot of Direct Lenders.
Snapshot of Independent Loan Officers.
Mortgage Stars Who Rock.
Conclusion.
INDEX.