Mortgages Made Easy: The All-Canadian Guide to Home Financing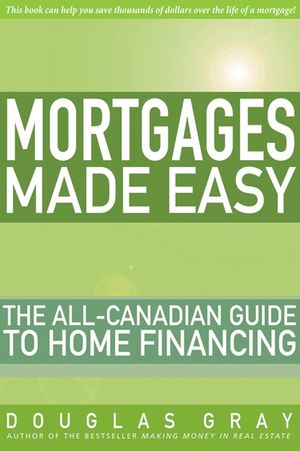 Mortgages Made Easy: The All-Canadian Guide to Home Financing
ISBN: 978-0-470-83732-0
Apr 2006
256 pages
Product not available for purchase
Description
Make this book your first stop when shopping for a mortgage!
Whether you are considering making your first home purchase or are about to refinance a mortgage, there is lots of good news. Mortgage interest rates are stable and the competition among lenders is fierce. They want your business. So, how do you determine the best deal for your own individual circumstances? How do you make sense of the fine print that comes with different mortgage products?
Mortgages Made Easy is a step-by-step guide to help you better understand the current real estate market, financing options, how to qualify for a mortgage, and the legal aspects of purchasing a home and having a mortgage. Among the key topics discussed are:
Types and sources of mortgages
Mortgages and your RRSP
How to renew, refinance, or prepay a mortgage
How to invest in mortgages
Creative financing techniques
Government assistance
Special options for seniors
Pitfalls to avoid
And much, much more, including a glossary, checklists, forms, and helpful websites.
Written by one of Canada's most respected real estate experts, let Mortgages Made Easy help you obtain the financing that's right for your home or investment property.
Acknowledgements xi
Preface xiii
Introduction: Before You Think about Buying a Property 1
Part I - REAL ESTATE BASICS.
Chapter 1: How the Real Estate Market Works 13
Chapter 2: Buying a House: The First Steps 25
Chapter 3: Why Buying a Condominium Is a Different Animal 43
Chapter 4: Is the Price Right? 55
Chapter 5: Getting Expert Advice Before You Buy 65
Part II - ALL ABOUT MORTGAGES.
Chapter 6: Mortgage Basics 87
Chapter 7: Mortgages Don't Come Cheap! 109
Chapter 8: Finding the Mortgage That's Right for You 119
Chapter 9: What Happens If You Can't Keep Up with Payments? 139
Chapter 10: Government Programs That Can Help the Homebuyer 145
Chapter 11: Ways to Help with Mortgage Payments 155
Chapter 12: Some Financial Options for Seniors 165
Chapter 13: Creative Financing Secrets177
Chapter 14: Renew, Refi nance, and Renegotiate 181
Chapter 15: Investing in Mortgages 193
APPENDIX.
Checklist 1: Preparing for a Mortgage 215
Checklist 2: Purchase Expenses Checklist 221
Sample Form #1: Personal Cost-of-Living Budget (Monthly) 223
Sample Form #2: Personal Net Worth Statement 226
Sample Form #3: Calculating Your Gross Debt-Service (GDS) Ratio 232
Sample Form #4: Calculating Your Total Debt-Service (TDS) Ratio 234
Helpful Websites 236
Glossary 238
Index 243
Reader Feedback and Educational Resources 257
About the Author 258